Detailed Guide to Finding the Right Power Lift Chair
If getting up and down from a sofa or chair is not as simple as it used to be for your loved one, buying a power lift chair may be the right move.
For those who have difficulty standing from a seated position, lift chairs are a terrific aid, increasing independence, safety, comfort, and convenience. There are so many options, both in stores and online, when it comes to buying mobility equipment that it can become overwhelming.
Before deciding on a particular model, it's important to assess your wants and needs.  Answer the questions below to help you decide on the options that will be most beneficial in your lift chair.
Examples: Pride Mobility LC-358M Heritage LC-358 Line 3-Position Lift Chair (left)
and Carex Health Brands Risedale Chair, Bisque
Lift Chair Selection Checklist
What type of reclining feature are you looking for (2-, 3-, or infinite-position)?
What size will you need based on the user's height and weight?  Just like any recliner, you want the chair to fit your body size. This is very important because the larger the chair, the deeper the seat cushion. Choose a chair that's too big and your legs may not touch the floor when sitting straight up. Choose a model that's too small and your lower back area might not respond well.
What additional options may be beneficial to you?
Do you sweat a lot? Leather may not be the best choice.
Is incontinence a problem? Perhaps material made of cloth does not make sense in this case.
In most cases, leather will cost more, but do not discount its benefits.
This RMS Absorbent Washable Reusable Incontinence Chair Seat Protector Pad is great to protect your chairs and other furniture.
Start by having a sense of the room size and décor for an appropriate match. 
Do you have a fairly tight area in your living room to place the chair? Does it need to be against a wall? Models are available that can start against a wall and slide open forward without banging into the wall behind it. Standard models which both slide out and backwards may be a problem in tight areas.
Next, Consider the Three Reclining Configurations

Along with the power lift feature, lift chairs are available in three reclining configurations that operate via the remote hand control:
2 Position Lift Chairs – Offer a limited reclining backrest with an elevating ottoman, designed for increased comfort while reading or watching television.
3 Position Lift Chairs – Offer an extended reclining backrest that can be positioned in a number of recline angles (it does not offer a full recline sleep position, however), with an elevating ottoman, ideal for those seeking a bit more recline when watching television or relaxing.
3 Position Example:
Bass 3-position Reclining Lift Chair by Windermere
Infinite Position Lift Chairs – Offer a full range of recline, all the way to a true sleeping position, with independently elevating ottoman for optimal comfort.
Infinite Position Example: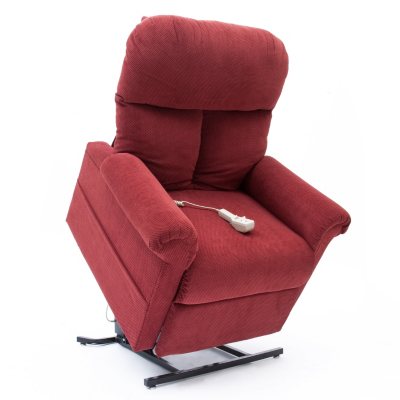 Lift Chair Sizing
For appropriate accessibility and comfort, lift chairs are available in specific sizes to best match the user's height and weight:
Petite/Small – Offers a limited reclining backrest with an elevating ottoman, designed for increased comfort while reading or watching television
Medium – For users 5'4″ to 5'10" (375 lb. weight capacity, based on model)
Large – For users 5'11" to 6'2″ (375 lb. weight capacity, based on model)
Tall – For users 6'2″ to 6'8″ (375 lb. weight capacity, based on model)
Wide/XL – For users needing a 2″ to 4″ wider seat, with a weight capacity of 500 lbs. (also available in Petite/Small wide versions)
Heavy Duty/XXL – For users needing a 4″ wider seat, with a weight capacity of 600 lbs. to 700 lbs.
Heavy Duty Example:
This Golden Technologies Elite Comforter Extra Wide Series Lift Chair Golden Technologies recognizes that "One size does not fit all". 
Lifting capacities:   375 lbs (Small) / 500 lbs (Medium, Large and Tall) / 700 lbs (Super 33 – Triple Motor)
Other Lift Chair Options
In addition to primary lift chair features, popular options can be added to increase access, comfort, and convenience:
Heat and massage functions
Right or left remote hand control location
Extra storage pockets to hold magazine and remotes
Example: This Catnapper Somerset 4817 Power Lift Chair and Recliner  below has a generous magazine pocket.
Cup holders and snack trays
Room and Décor Considerations
Beyond selecting the lift chair's features, size, and options, it's also important to consider the room where it will be placed.
Lift chairs are the approximate size of comparable recliners; however, because lift chairs activate, they can require a bit more space. Nevertheless, for rooms with limited space, an option is a wall-hugger or space-saver model, which allows the lift chair to operate within 4″ to 6″ from a wall.
The video above shows the 5600 Series Wall-a-Way Reclining Lift Chair from Medi-Lift, which is a great example of a wall-hugger or space-saver model. 
Of course, décor is important to many lift chair users, and with the wide variety of fabric choices on many lift chair models, it's possible to closely match a lift chair to most existing furniture colors. 
Reclining Lift chairs are not only made to fit all people, but they are created to fit in with any décor as well as any lifestyle.
Lift Chair Fabrics
Lift Chair fabrics offer plentiful options. Even beyond colors to fit your taste, there are fabric options that fit to your lifestyle and can weather the wear and tear of nearly any situation.
There is high-quality micro-suede, which is a man-made knit blend of polyester fibers almost a hundred times finer than human hair. While very similar to normal suede, Micro-Suede is softer and easier to clean. As a furniture upholstery, it is very durable and resistant to dirt and is easily cleaned by wiping the fabric with a dry cloth.
Ultraleather, is another popular option. This material offers the look and feel of leather, but is more durable than genuine, hide upholstery. With a durability rating 13 times the industry standard for heavy-duty fabrics and with built-in stain resistance, this water-repellent polyurethane upholstery is built to last. Most stains can be removed from an Ultraleather lift chair with the use of water, soap, and/or common alcohol-based cleaning solutions.
Ultraleather is also highly resistant to temperature changes, remaining cool to the touch even when exposed to direct sunlight and resisting the stiffening and cracking of normal leather in cold weather.
Yet another more affordable fabric choice is vinyl, which is a plastic resin made from chlorine and ethylene. It is non-breathable, which allows it to absorb and contain heat.
From function to style, a lift chair will surely be a welcome addition to your home. 
Have you purchased a lift chair?  Please share your tips!

Thoughts, questions, tips?  Feel free to comment below.

You may also be interested in:

Install a Power Lift Toilet Seat for a Safer Bathroom
How to Buy an Elevated Toilet Seat
Guide to Bathroom Grab Bars and Hand Rails
Easy Home Improvements for Mobility Issues
Incontinence Protection Products for Home, Car and Bed
Best Hearing Amplifiers Reviewed
How to Reduce the Risks of Heavy Lifting for Caregivers
Guide to a Residential Elevator in Your Home