Wigs to Cover Hair Loss
Most women who are faced with hair loss opt for at least one wig and alternate wearing the wig(s) with hats and scarves.  If you or a loved one will be losing hair due to disease or chemotherapy, you may want to think about wigs.  I have put together a buying guide for wigs to help you find just the right wig(s).
What should I do to prepare for hair loss?
Make sure you will need a wig. Not all chemo causes hair loss.
If your hair is long, consider having it cut short so that switching to a wig or other head covering will be less noticeable.
Hair generally falls out 2-3 weeks after your first chemo treatment.
Once it starts falling out, consider having your head shaved (use an electric shaver to avoid cuts).  This can make you feel more in control and keeps you from waking up to find itchy hair all over your pillow.

If you still need something to catch the hair, you may want to buy a Mesh Cap.
Hair usually grows back about six months after chemotherapy ends. Your new hair may be curlier or straighter, thicker or finer—or even a new color. Usually this change is short term; with time your hair will very likely go back to the way it was before treatment.
Wig Buying Guide
Finding a wig doesn't have to be overwhelming. If you are losing your hair due to cancer, alopecia, chemotherapy treatments or other medical conditions, or if you simply want a new look, this buying guide will help you to choose the right wig for you.
The encouraging news is that no one will be able to tell that you are wearing a wig. Typically when women start wearing their wig for the first time, their friends will tell them how great their new haircut looks, not realizing it's actually a wig.
If you have always wanted a different hair style or color, there couldn't be a better time to experiment. Maybe you have always wanted to be a redhead. Or maybe you always wished your straight hair had curls. With wigs, the options are limitless.
Although many women do not choose to wear wigs by choice, they do find that there are unexpected benefits. One is that your morning routine is much, much simpler. You will also save money on hair styling, cuts and coloring. Best of all, you will never have a "bad hair day."
Choose the Correct Wig Size
Just like shopping for clothes, you want to start by browsing in the right size or section of the store. If you are 5'10" tall and you are shopping in the petite section, it will inevitably be a frustrating experience. Therefore, the first step in selecting a wig is to determine your head size.
For women's wigs, there are 3 basic sizes: Petite, Average and Large. Most women (90-95%) will wear an average sized cap. For those who do not wear an average, the majority will wear a petite cap. A small percentage of women will wear a large cap. To achieve accurate measurements, it is best to have someone else help you. The tape measure should be snug but not tight or pulled when the measurements are taken.
While average size wigs tend to fit most people, you will find that quite a few wigs also come in petite and large sizes. Consider that many also have adjustable straps that give up to 1/2″ so that you can achieve a comfortable and secure fit.
To determine the right size wig for you, measure the circumference of your head from the front hairline, behind your ear, to the nape of your neck, to your other ear and then back to the front hairline. Jot down your measurement, then consult the table below. Please note that sizes may vary slightly by brand and that not all wigs are available in all cap sizes.
Hair Type
While you may have preconceived notions about human hair and synthetic hair, the truth is that they both have advantages and limitations, which make them the right choice in different situations.
When considering composition, or how a wig is structured, think about the hair type as well as the cap construction.
Many cancer patients want a human hair wig.
Human hair wigs offer the same styling versatility of real hair. This feature is both the pro and the con of a human hair wig. Because human hair wigs are made of real hair, they require much more maintenance, styling and upkeep. 
Photo:  Asifen Human Hair Wig
Without the natural oils from your scalp to condition the wig, they can get dry and brittle without proper maintenance. Just like your own hair, they will lose their style in the rain or humidity and must be restyled. They are also much more expensive than synthetic wigs. For this reason, experts don't generally recommend human hair wigs for cancer patients or first time wig wearers.
When you are not feeling well, one of the great benefits to a synthetic wig is that your hair always looks good with almost no effort. With so many things to worry about, why not simplify your routine as you go through treatments? This being said, if you want the versatility of a human hair wig, there are many to choose from. Human hair wigs can last a year or more (if worn daily) with proper care.
Human Hair

Synthetic Hair

offers the most natural look & feel

presents the most styling versatility

requires more styling – especially after washing

typically more expensive than synthetic hair

very durable – can last over a year with proper care*

higher quality synthetic hair offer a look and feel quite similar to human hair

offers limited styling versatility (hot tools cannot be used)

requires little maintenance & can usually be worn right out of the box

typically more affordable than human hair

less durable than human hair — 4-6 months with proper care*

Premium & Remy Human Hair are the highest quality human hair available

hair cuticles kept running in uniform direction resulting in less tangling

more careful collecting and processing techniques result in higher quality product and contribute to higher price

the most durable hair type

Heat-Friendly Synthetic Hair offers more styling versatility (hot tools may be used – max 350°)

can be more challenging to style than human hair

special care must be taken to avoid tangling

colors may vary from non-heat-friendly synthetic hair

less durable than regular synthetic hair — 2-3 months with proper care*
Many people who have not seen a high quality synthetic wig think that they need a human hair wig to get a natural look. This is simply not the case.  High quality synthetic wigs will be virtually indistinguishable in appearance from a human hair wig.
Synthetic wigs have the benefit of retaining their shape, so they require very little styling. Simply spritz the wig with a spray bottle of water and the hair will return to their original style.
Synthetic wigs typically last from 4-6 months (if worn daily) with proper care. Keep in mind that most women do not wear their wig every day.
Synthetic wigs that can be styled with heated styling tools (maximum temperature of 350 degrees) are known as "Heat Friendly". They allow you to change the look from curly to straight.
For women who find it important to have this versatility but do not want a human hair wig, a heat friendly synthetic wig may be a good option.
One negative to heat friendly synthetic wigs is that the hair can be a little more difficult to style than human hair.
If (when wearing the wig) the hair is pressed against the back of a chair or pillow for a period of time, it can become matted around the nape area. Using your flat iron or curling iron on a very low setting can restore the shape if this happens.
Average life span is 3 months if worn daily. If you only wear your wig occasionally this will of course extend the life span.
Wig Cap Type
Wigs have come a long way in recent years. The advancements in the technology are so incredible; it is hard to determine the difference between a high quality synthetic wig and a human hair wig. These are NOT your grandmothers' wigs anymore!
Let's get down to basics. It all begins with the wig base, referred to as a cap. This is the material to which the hair is attached in order to create the wig.
The new cap constructions are lighter, more durable, and so much more natural looking! When choosing a wig, it is important to consider the cap construction – each approach has a specific method of attaching hair to the cap and offers its own set of advantages.
100% Hand-Tied
100% hand-tied monofilament caps allow each hair to move freely for the most natural look. Other designs referred to as 'hand-tied' feature a combination of hand-tied and machine-attached hair. This means that some areas (generally the part or crown) are hand-tied, but the rest is machine-attached. If you want the entire cap to be hand-tied, make sure to look for 100% hand tied!
Monofilament
Monofilament caps offer a very natural look with parting versatility. The mesh material gives the illusion of hair growth from the scalp and allows for individual, hand-tied hair. As a result, hair can be parted and combed in different directions.
Monofilament wigs can be monofilament at the part, crown or entire top of wig.
Double monofilament wigs also happen to be a good option for sensitive scalps as the cap is soft. Of the monofilament caps, the 100% hand tied cap is generally the most comfortable.
Lace Front
Lace front wigs create the illusion of natural hair growth along the hairline. This adds to the natural appearance of a wig and allows for styling away from the face. Some come pre-trimmed and are ready to wear while others will require some personalization.
Bravo by Raquel Welch
Basic Caps
Basic caps are the most common and affordable design. Wefts of hair are sewn onto the cap, which has a closed lace layer at the crown. The hair is cut and styled into a specific style and the crown is often teased or crimped so you cannot see down through to the cap. This type of cap often gives the hair volume at the crown.
Some wigs are referred to as capless. This is a bit of a misnomer as there is a cap, but instead of the closed lace layer at the crown, it has vertical lace strips with open spaces between the wefts.
Wig Style
Once you have decided on your size, your hair type and the cap type(s) you would like to consider, now you can have fun. Browse through your options and decide which style you like. For women who have very long hairstyles before their hair loss, it is often best to go a bit shorter. A shorter wig will be easier to manage, and less of a transition once your hair begins to grow back.
It is important to choose a style before you choose a color because each wig will only come in a selection of colors from the full color range. You cannot choose the color first because you will have to choose from the colors that the particular style is made in. Many women worry that if they don't start with color, they won't find the right color. Do not worry. Each wig comes in a large selection of colors and there will most likely be a suitable color in any style you choose.
If you would like to match your style to your existing hair, detailed length measurements are included with our wigs. Measuring your own hair lengths before you lose your hair can provide helpful information as you make your selections.
Wig Color
As most styles offer a range of color choices, this is a good final step. As you zero in on styles you like, you can begin to review the colors available.
If you're new to wearing wigs, consider staying close to your natural shade to ease the transition.

If you are torn between two color options, I recommend choosing the lighter hair color. Chemotherapy treatments can wash out your skin tone. Your skin tone can develop a grayish, greenish or yellowish tone. A darker shade will provide more contrast, accentuating a paler complexion; a lighter color will soften the effect for a more flattering look.
My Recommendation:  Raquel Welch Wigs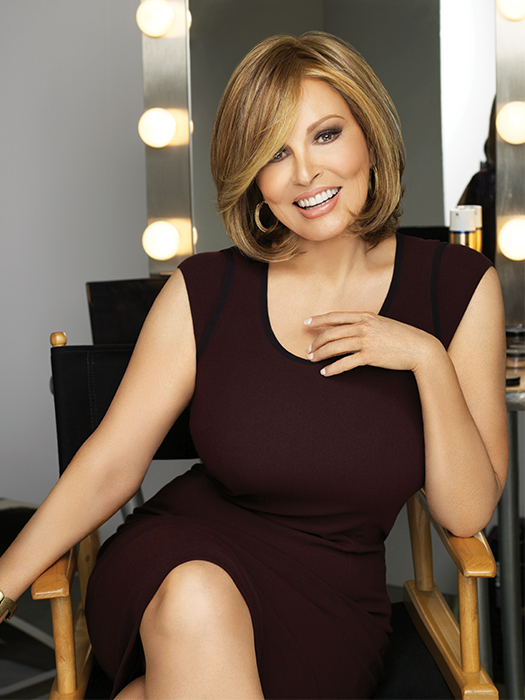 I recommend

Wigs by Raquel Welch

because they are lightweight, comfortable and so natural looking; people will never know you're wearing a wig.
These wigs are truly the best in quality and style, and are consistently rated highly by consumers.
Raquel Welch Wigs for are exceptionally flattering. The styles are on trend yet completely timeless too! 
It's fun to be fabulous and change your look as often as you change your mind. Raquel Welch Women's Wigs go from chic and straight to easy waves to high-octane curls.
Her wigs utilize the innovative technology of Memory Cap
®
construction – wig caps that are lighter, thinner and completely secure. Wear it for an hour and the patented Memory Cap
®
shapes to your head for a custom wig fit.
The Raquel Welch Freeform Lacefront Wigs offer an invisible natural hairline and synthetic heat-friendly fibers for total styleability.  The comfort and versatility of her Monofilament wigs is in a class by itself.
Thanks for visiting and reading … I hope this article provided some helpful ideas.  I welcome your comments below.
-Laurie

You may also be interested in:
Does BioSil Actualy Do Anything?
How to Cook for a Cancer Patient
Vitamin B-17 Laetrile Cancer Treatment
Should You Be Taking Probiotics?