Caregivers Can Reduce Risks of Heavy Lifting
A caregiver has more to be concerned about than merely the well-being of their loved one; their own emotional and physical state must be a priority.
Part of a caregiver's self care is learning how to safely transfer a loved one, whether between chairs, beds and baths.

Many opportunities are available for a caregiver to injure themselves during such tasks, and consequently be of no help to the one they must assist.
Much of a caregiver's work may include daily routines such as bathing, grooming, dressing, toileting, feeding and others. Excessive bending and lifting are physically demanding, and can make a caregiver feel tired and taxed.
Muscle tension, backaches, sore neck and headaches are only a few side effects of a caregiver's job. As author Mary King says in Caregiver Safety for Moving & Managing Patients, "Sore muscles are one thing, but a chronic back injury, painful hernia or ruptured disc can cause major problems beyond the medical complications." 
A caregiver can learn how to efficiently help a loved one with some simple lifting, transfer and assistance tools.
Safe Lifting For Caregivers

No matter a caregiver's strength and physical endurance, without proper lifting techniques, the rest is useless. The first tool for a safe lifting experience is making a plan! Never go into a transfer without first "walking" through it mentally.
A caregiver should know where they are going and how to get there.  Have the person positioned properly. Make sure the area is clear and free from interference. Position any assistive equipment in order to provide the optimal support to both caregiver and person being assisted.
The Importance of a Gait Belt
A gait belt is an assistive device which can be used to help safely transfer a person from a bed to a wheelchair, assist with sitting and standing, and help with walking around.
It is secured around the waist to allow a caregiver to grasp the belt to assist in lifting or moving a person.
Proper use of a gait belt can reduce the struggles involved with this task and lower the risk of back injury. 
When used properly, the belt protects the care recipient from falling and also protects the caregiver from injuring his or her back as they lift or move the care recipient.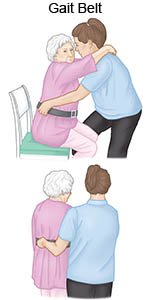 A gait belt is usually 1-½ to 4 inches wide, and 54-60 inches long. The belt is made out of canvas, nylon, or leather with a buckle at one end. You can purchase a gait belt at medical supply stores, large pharmacies, online (e.g. Amazon), or even stores like Walmart.
A standard gait belt has a metal buckle that has loops and teeth. Thread the belt through the teeth of the buckle and then put the belt through the loop to lock it.
A quick-release gait belt has a plastic buckle that snaps into place to clip the two ends together.
A gait belt should always be used if the care recipient is partially dependent and has some weight-bearing capacity.
Here are some benefits of using a gait belt:
Provides assistance to the caregiver in moving an individual from one place to another. Gait belts can also be used to help raise a care recipient without straining the back.

Allows a caregiver to help stabilize a care recipient who loses his or her balance while walking. The belt acts as a handle that allows a caregiver to easily grasp onto the belt and stabilize the care recipient.

Helps protect the care recipient and caregiver from unnecessary injuries.
Be extra careful if the care recipient has a feeding tube, catheter, or medical issues involving their abdominal area. Consult with a physician about proper lifting under these conditions to find out if using a gait belt is safe.
You can find a wide variety of gait belts on the market.   I particularly like the Vive Gait Belt; it's strong enough to handle bariatric weights, has six padded waist handles for gripping from any angle, and a quick-release buckle.
For proper lifting techniques, I recommend the book Caregiver's Handbook, profiled in this article below, which has excellent detailed diagrams and tutorials on lifting and transfers.  
Some Basic Lifting Tips:
Stand close with your legs shoulder-width apart to keep balanced.
Bend your knees as far as comfortable.
Let your legs do the work: Lift with your leg and back muscles.
Lift slowly; do not jerk.
Don't bend at the waist, but keep your back and neck straight
Face the person you are helping, positioning them close to you
Wear support, non-skid shoes
Never have someone grab your neck for assistance.
The Transfer Process

If a loved one is in bed (one of the most common and challenging transfers) and needs help moving to a different location, the process below is a step-by-step instructional.
If transferring to a wheelchair, the chair needs to be parallel to the bed, and the wheels of the chair locked. Before touching a loved one and performing any movement, it's important that a caregiver explain what they are going to do.
After a short explanation, eliminating any surprises, the next step is getting the person to a seated position. If they are not strong enough to do this independently, a caregiver can place one arm under their loved one's legs and the other arm under their back and lift up. They must lift from the legs, not back. Then, pivot and swing both legs over the edge of the bed.
If applicable and able, always transfer the person to their stronger side. An example the Strength for Caring Web site gives is if a loved one has had right hip surgery, they will most likely be able to help the most if transferred to the left.
Next, a caregiver should instruct and assist the loved one to scoot to the edge of the bed. Let a loved one use as much strength as they can to help themselves. A caregiver can then use the gait belt, by placing their arms around the loved one's hips and grabbing to the belt.
Helen Pereira, a physical therapist, recommends asking a loved one to lean forward, bringing their weight over their feet. Use the belt and their strength to lift to the feet. A good hint here is for a caregiver to begin a rocking motion, to gain momentum. The caregiver should still be in front of the loved one while he or she is coming to a standing position and stabilizing his or her knees against those of the one being assisted. This provides the most stability for both participants. After lifting carefully together, then take small steps and lower to a sitting position in the chair, or other destination.
Practice makes perfect, and after a caregiver performs a few proper transfers, he or she will be a pro!
See Also: Safe Transferring from Wheelchair to Toilet
Patience

Patience is one thing a caregiver needs to have with any transfer.
The Family Caregiving Alliance (FCA) suggests that a caregiver allow their loved one to finish what they are doing before beginning a transfer.
Many times a caregiver will unintentionally rush because of their own pending commitments. This attitude is frustrating for a loved one who can sense another's angst and hurried pace.  Especially if a loved one is memory or brain impaired, this sense of urgency must be curtailed. The FCA suggests a caregiver allows their loved one time, saying for example: "Mom, after you finish that last bite of cereal, we're going to get you dressed and ready to see your friends."
The other side of the emotional assistance a caregiver can show is respecting a loved one's "reality". Caregiving is a big responsibility and taking on transfers is no exception. It may take longer to get a loved one up and going for the day if they are confused, argumentative or just tired and not ready for the tasks at hand. As a caregiver, never force a situation. It will only make the transfer more challenging and tense, leaving room for error and injury.
Leave and come back after a few minutes, the FCA suggests. And, if a loved one still resists being transferred, a caregiver must weigh the pros and cons of moving forward. If it's a simple question of taking a bath or not, it can probably wait another hour or even day. However, never leave a loved one in soiled undergarments, or lying down for hours at a time to develop bed sores. The loved one's health is a priority!
Other Helpful Assistive Devices
Durable medical equipment is a big help with all transfers, of any kind.
In addition to gait belts, this kind of equipment includes products such as walking canes and walkers.  Often, having a stable object for a loved one to grasp and assist in standing is the key for a successful transfer.
See Also:
Pivot Disk

A pivot disc is an item that not every caregiver is aware of; it is designed for assisted or unassisted transfers by individuals with limited or no ability to pivot.
Individuals with upper body strength can use the Pivot Disc to accomplish independent transfers, and it's an excellent caregiver assistance tool.
I recommend the Safety Sure® Pivot Disc (weight capacity: 400 lbs)
This video shows how to to use the pivot disc properly:
Bed Rails
A bed rail can also be particularly very useful for transfers from bed to a walker, wheelchair, or simply to a standing position.
To make sure bed rails are appropriate for your situation, read my post Risks of Bed Rails:  Should You Install Them?
The Able Lift Bedside Rail is a good choice, is height-adjustable to fit any bed, and has the ability to support up to 300 lbs.  The organizer pouch is handy addition.
The Universal Stand Assist, also by Able, is like a bed rail for chairs.  It can be used to stand more easily from most couches, chairs, or recliners.  It is height-adjustable, and has a weight capacity of 300 lbs.
Mechanical Lifting Cushion
Another accessory a mechanical lifting cushion, can be very helpful. The UPEASY Seat Assist is a mechanical lifting cushion that will ease an individual into their seat, as well as help them up. Its lifting action releases gently as they begin to stand, lifting up to 80% of their body weight, as needed. 
The Seat Assist requires no electricity to operate, so it's convenient to take everywhere you go. It's also adaptable to fit most armchairs and sofas, so it can be quite handy to have one of these in the home, to use when and where needed.
Patient Resistance to New Devices is Common
Sometimes introducing a new assistive device makes people uneasy. If a loved one resists any assistance or assistive devices, a caregiver may need to have a conversation with them, explaining the risks to both people if these tools are not used. It is important for your loved one to feel in control and that they are making independent decisions for their care.
Don't Do it Alone
A caregiver can and should rely on the strength of their loved one to assist in lifting and transferring. Solicit your loved one's help by having them shift their weight, move their arms to make the assisting easier, or push up with the strength they do still possess.
Remember that a small amount of help from the one being transferred equals a lot less work for a caregiver.
If a loved one is unable to help and too heavy for one person to life, seek help. A caregiver should never put themselves in harm's way during a transfer. 
If it's a non-emergency situation and a caregiver finds themselves unable to physically assist a loved one, they should call the local fire department and request a "fireman's assist," says the Family Caregiving Alliance. The local squad will come to the house and help. And, of course, in any emergency, call 911.
A caregiver who remains calm and collected, explains the process to their loved one, and uses simple safety measures will be able to complete almost any transfer with ease.  Soon they will be moving a loved one with confidence and control.
If it's a non-emergency situation and a caregiver finds themselves unable to physically assist a loved one, they should call the local fire department and request a "fireman's assist," says the Family Caregiving Alliance. The local squad will come to the house and help. And, of course, in any emergency, call 911.
A caregiver who remains calm and collected, explains the process to their loved one, and uses simple safety measures will be able to complete almost any transfer with ease.  Soon they will be moving a loved one with confidence and control.
Suggested:  Caregiver's Handbook. This is acompassionate and comprehensive resource for anyone who needs to take care of an elderly person at home, the Caregiver's Handbook is an invaluable reference that offers constructive, illustrated guidance for first time and beginning caregivers, including information on essential first aid, advice on selecting professional help when needed, and dealing with a variety of common conditions.  Read reviews.

Thanks for visiting and reading … I hope this article provided you some helpful ideas.  I welcome your comments below.
-Laurie

You may also be interested in:
How to Choose Adaptive Clothing
Tips For Easier Senior Car Travel
Blue Emu and Australian Dream – Which One is Better?
Helping Your Older Adult Move From Wheelchair to Toilet
Shower Chairs and Bath Benches
Safety Grab Bars and Hand Rails for the Bathroom
Risks of Bed Rails – Should You Install Them?
Caregivers and Morbid Obesity Issues
Dealing With Caregiver Anxiety
Would a Power Lift Chair Help in Your Home?
Caregivers Must Prepare for Emergencies – Here's How
Patient Lifts and Slings for Safety and Comfort
10 Simple Products to Help With Getting Dressed
Patient Lifts and Slings for Safety and Comfort
Find the Right Power Wheelchair