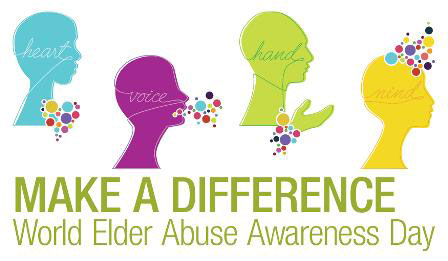 World Elder Abuse Awareness Day (WEAAD)
World Elder Abuse Awareness Day (WEAAD) was launched on June 15, 2006 by the International Network for the Prevention of Elder Abuse and the World Health Organization at the United Nations.  It is recognized annually on June 15th.

The purpose of WEAAD is to provide an opportunity for communities around the world to promote a better understanding of abuse and neglect of older persons by raising awareness of the cultural, social, economic and demographic processes affecting elder abuse and neglect.
In addition, WEAAD is in support of the United Nations International Plan of Action acknowledging the significance of elder abuse as a public health and human rights issue. WEAAD serves as a call-to-action for individuals, organizations, and communities to raise awareness about elder abuse, neglect, and exploitation.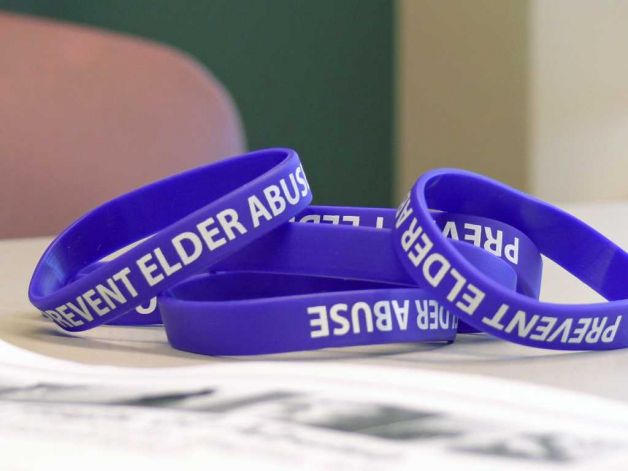 Tools and Tips
Every year an estimated 5 million older Americans are victims of elder abuse, neglect, or exploitation. And that's only part of the picture: Experts believe that for every case of elder abuse or neglect reported, as many as 23 cases go unreported.
With such a complex issue, there is only one way we can address it: United together.
The Administration for Community Living (ACL), partnered with the National Center on Elder Abuse (NCEA), encourages individuals and organizations across our nation, states, and local communities to take a stand and to raise public awareness about elder abuse.
Your voice can speak out against ageism, combat isolation, and bolster education efforts one person and community at a time.
Visit he Take Action page to find more ideas. Visit the WEAAD microsite on ACL.gov to become a collaborator. Need additional resources? Contact the National Center on Elder Abuse
In Canada, visit the Canadian Network for the Prevention of Elder Abuse (CNPEA)
Frequently Asked Questions
Elder abuse is a growing problem. While we don't know all of the details about why abuse occurs or how to stop its spread, we do know that help is available for victims. Concerned people, like you, can spot the warning signs of a possible problem, and make a call for help if an elder is in need of assistance.
What is Elder Abuse?
Federal definitions of elder abuse first appeared in the 1987 Amendments to the Older Americans Act, however, these definitions are guidelines. Each state defines elder abuse according to its unique statutes and regulations, and definitions vary from state to state. Researchers also use varying definitions to describe and study the problem.
Domestic elder abuse generally refers to any of the following types of mistreatment that are committed by someone with whom the elder has a special relationship (for example, a spouse, sibling, child, friend, or caregiver).
Institutional abuse generally refers to any of the following types of mistreatment occurring in residential facilities (such as a nursing home, assisted living facility, group home, board and care facility, foster home, etc.) and is usually perpetrated by someone with a legal or contractual obligation to provide some element of care or protection.
Elder abuse can affect people of all ethnic backgrounds and social status and can affect both men and women. The following types of abuse are commonly accepted as the major categories of elder mistreatment:
Physical Abuse—Inflicting, or threatening to inflict, physical pain or injury on a vulnerable elder, or depriving them of a basic need.
Emotional Abuse—Inflicting mental pain, anguish, or distress on an elder person through verbal or nonverbal acts.
Sexual Abuse—Non-consensual sexual contact of any kind, coercing an elder to witness sexual behaviors.
Exploitation—Illegal taking, misuse, or concealment of funds, property, or assets of a vulnerable elder.
Neglect—Refusal or failure by those responsible to provide food, shelter, health care or protection for a vulnerable elder.
Abandonment—The desertion of a vulnerable elder by anyone who has assumed the responsibility for care or custody of that person.
Although there are distinct types of abuse defined, it is not uncommon for an elder to experience more than one type of mistreatment at the same or different times. For example, a person financially exploiting an elder may also be neglecting to provide appropriate care, food, medication, etc. 
What Are the Warning Signs of Elder Abuse?
While one sign does not necessarily indicate abuse, some indicators that there could be a problem are:
Change Bruises, pressure marks, broken bones, abrasions, and burns may be an indication of physical abuse, neglect, or mistreatment.
Bruises around the breasts or genital area can occur from sexual abuse.
Sudden change in alertness and unusual depression may be indicators of emotional abuse.
Sudden changes in financial situations may be the result of exploitation.
Bedsores, unattended medical needs, poor hygiene, and unusual weight loss are indicators of possible neglect.
Behavior such as belittling, threats, and other uses of power and control by spouses or those who should be in a position of trust are indicators of verbal or emotional abuse.
Strained or tense relationships, frequent arguments between the caregiver and elderly person are also signs. 
It's important to remain alert. The suffering is often in silence. If you notice changes in personality, behavior, or physical condition, you should start to question what is going on.
What is Self Neglect and What Are the Signs?
Tragically, sometimes elders neglect their own care, which can lead to illness or injury. Self-neglect can include behaviors such as:
Hoarding of objects, newspapers/magazines, mail/paperwork, etc., and/or animal hoarding to the extent that the safety of the individual (and/or other household or community members) is threatened or compromised.
Failure to provide adequate food and nutrition for oneself.
Failure to take essential medications or refusal to seek medical treatment for serious illness
Leaving a burning stove unattended
Not wearing suitable clothing for the weather
Inability to attend to housekeeping
Self-neglect is one of the most frequently reported concerns brought to adult protective services. Oftentimes, the problem is paired with declining health, isolation, Alzheimer's disease or dementia, or drug and alcohol dependency.
In some of these cases, elders will be connected to supports in the community that can allow them to continue living on their own. Some conditions like depression and malnutrition may be successfully treated through medical intervention. If the problems are severe enough, a guardian may be appointed.
What Makes Older Adults Vulnerable to Abuse?
Elder abuse, like other types of domestic violence, is extremely complex. Generally a combination of psychological, social, and economic factors, along with the mental and physical conditions of the victim and the perpetrator, contribute to the occurrence of elder maltreatment.
Although the factors listed below cannot explain all types of elder maltreatment, because it is likely that different types (as well as each single incident) involve different casual factors, they are some of the risk factors researchers say seem to be related to elder abuse.
Dementia and Cognitive Impairment
Elders with dementia are thought to be at greater risk of abuse and neglect than those of the general elderly population. Risk factors for this population include the caregivers heightened perception of burden and depressive symptoms, as well as the care recipient's psychological aggression and physical assault behaviors.
Domestic Violence Grown Old
It is important to acknowledge that spouses make up a large percentage of elder abusers, and that a substantial proportion of these cases are domestic violence grown old: partnerships in which one member of a couple has traditionally tried to exert power and control over the other through emotional abuse, physical violence and threats, isolation, and other tactics.
Personal Problems of Abusers
Particularly in the case of adult children, abusers often are dependent on their victims for financial assistance, housing, and other forms of support. Oftentimes they need this support because of personal problems, such as mental illness, alcohol or drug abuse, or other dysfunctional personality characteristics. The risk of elder abuse seems to be particularly high when these adult children live with the elder.
Living with Others and Social Isolation
Both living with someone else and being socially isolated have been associated with higher elder abuse rates. These seemingly contradictory findings may turn out to be related in that abusers who live with the elder have more opportunity to abuse and yet may be isolated from the larger community themselves or may seek to isolate the elders from others so that the abuse is not discovered. Further research needs to be done to explore the relationship between these factors.
Who Are the Abusers of Older People?
Although more research is needed, most cases of elder abuse are perpetrated by known and trusted others, particularly family members (including adult children, spouses, and others). Abusers can be men or women, of any age, race, or socio-economic status. Elder mistreatment is perpetrated by family members, friends, service providers, peers, and strangers.
Are There Criminal Penalties For the Abusers?
Although laws vary from state to state, in most states there are several laws that address criminal penalties for various types of elder abuse. Some states have increased penalties for those who victimize older adults. Increasingly, across the country, law enforcement officers and prosecutors are trained on elder abuse and how to use criminal and civil laws to bring abusers to justice. Read about state elder abuse laws, important legal issues, and how to access the laws in our Laws Section of Library.
Who Do I Call If I Suspect Elder Abuse?
In the United States, visit this page.
In Canada, visit this page.
What Can I Do if Concerned About Possible Neglect or Abuse in a Nursing Home?
If you suspect abuse or neglect of someone living in a nursing home, assisted living facility, or board and care home, contact a local Long-Term Care Ombudsman for more information. For a directory of state reporting numbers and resources, visit the State Resources page.
The National Consumer Voice for Quality Long-Term Care  (formerly NCCNHR):
Empowers and educates consumers and families
Trains and supports individuals and groups to advocate for and empower consumers
Promotes the critical role of direct-care workers and best practices in quality-care delivery
Advocates for public policies that support quality care and life
The website provides information and resources to help residents  understand your rights and advocate for quality care, as well as for family members and friends
In Canada, call your local police if the situation is not an emergency but you suspect it might be against the law. Ask to speak to someone who has been trained in elder abuse or domestic/family violence.  If the situation is an emergency, call 9-1-1. Also, visit the CNPEA for more information

How Can Elder Abuse Be Prevented?
Educating seniors, professionals, caregivers, and the public on abuse is critical to prevention. On an individual level, some simple but vital steps to reduce the risk:
Take care of your health.
Seek professional help for drug, alcohol, and depression concerns, and urge family members to get help for these problems.
Attend support groups for spouses and learn about domestic violence services.
Plan for your own future. With a limited power of attorney or a living will, health care decisions can be addressed to avoid confusion and family problems, should you become incapacitated. Seek independent advice from someone you trust before signing any documents.
Stay active in the community and connected with friends and family. This will decrease social isolation, which has been connected to elder abuse.
Know your rights. If you engage the services of a paid or family caregiver, you have the right to voice your preferences and concerns. If you live in a nursing home or board and care home, call your Long Term Care Ombudsman. The Ombudsman is your advocate and has the power to intervene.
All states have adult protective and long-term care ombudsman programs, family care supports, and home and community care services that can help older adults with activities of daily living. Call the Eldercare Locator at 800-677-1116 for information and referrals on services in your area.
Visit the Get Involved section to learn how concerned citizens of all ages can become involved in prevention, or in Canada, join the CNPEA here.

Related:
FBI Warning: Seniors Getting Scammed
Important Seniors' Nutritional Supplements Reviewed
Practical Shoes for the Elderly