Get Gardening to Lose Weight And Gain Health!
The Garden is a Great Place to Achieve an Effective Mind/Body Workout and Help You Drop Some Pounds.
According to the Centers for Disease Control, gardening is compared to "moderate cardiovascular exercise." Gardening 30 to 45 minutes a day can burn 150 to 300 calories. This isn't just standing there watering the flowers, but weeding, digging, hoeing, raking and planting. And there's nothing like being at one with nature to help create a calming, relaxed state of mind while you let go of the pressures and anxiety of everyday life.
A recent South Korean study, published in the journal HortTechnology, found that some gardening tasks qualify as moderate-to high-intensity physical activity.
The researchers asked 15 college-aged students to complete 10 gardening tasks on two separate occasions. They did five tasks on each occasion for five minutes each, with five-minute breaks in between each one. The tasks included digging, raking, weeding, mulching, hoeing, sowing, harvesting, watering, mixing growing medium, and planting transplants. The researchers also asked participants to wear devices that tracked their heart rate, calorie burn, and oxygen consumption.
When the researchers measured the results, they found that all of the tasks were considered moderate- to high-intensity physical activity for the volunteers. (One word: Yay!)
Some of the activities were more intense than others: Digging was the highest-intensity job. Next up was raking, followed by weeding, mulching, hoeing, sowing, harvesting, watering, and mixing growing medium. Planting transplants was the lowest-intensity job.
There are some extenuating circumstances that can make these results vary from person to person, such as differences in the type of garden tools, gardening methods, gardening conditions, and garden size can all impact the results. However, the point remains: Gardening is, in fact, a legitimate physical activity that can help you lose weight!
…But you didn't need a study to tell you that, did you?  So let's get down to the nitty-gritty  of how you lose weight with gardening.
How Gardening Helps You With Weight Loss
According to the University of Virginia, gardening rates up there with other moderate to strenuous forms of exercise, like walking and bicycling. It all depends on what gardening task you are doing and for how long. Like any other form of exercise, you have to be active for at least 30 minutes for there to be a benefit.
Gardening = Exertion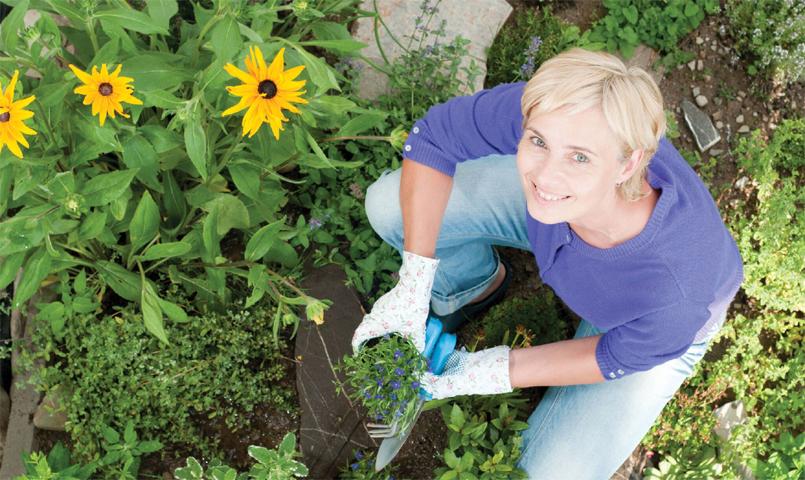 While enjoying yourself in the garden, you are also working all the major muscle groups: legs, buttocks, arms, shoulders, neck, back and abdomen. Gardening tasks that use these muscles build strength and burn calories.
Besides the exertion involved, gardening has other pluses that make it a good form of exercise and calorie burning. There can be a great deal of stretching involved with gardening, like reaching for weeds or tall branches, bending to plant and extending a rake. Lifting bags of mulch, pushing wheelbarrows and shoveling all provide resistance training similar to weight lifting, which leads to healthier bones and joints. Yet while doing all this, there is minimal jarring and stress on the body, unlike aerobics or jogging.
Burning Calories Without Thinking About It
Losing weight requires you to burn more calories than you consume and so the amount of weight you'll lose gardening depends on several factors including your size and the task you are performing.
Some general examples from Iowa State University, below, show how some of the more strenuous gardening tasks can really burn calories.
Digging Holes – Men: 197 calories, Women: 150 calories

Planting – Men: 177 calories, Women: 135 calories

Weeding – Men: 157 calories, Women: 156 calories
The National Institute of Health lists gardening for 30 – 45 minutes in its recommended activities for moderate levels of exercise to combat obesity, along with biking 5 miles in 30 minutes and walking 2 miles at the same time.
But Wait – There's More!
Research is showing that gardening for just 30 minutes daily will help:
Increase flexibility

Strengthen joints

Decrease blood pressure and cholesterol levels

Lower your risk for diabetes

Slow osteoporosis
Getting The Most Out of Your Gardening Session
It takes at least 30 minutes of exercise several days a week, to really receive any health benefits from gardening. However, researchers are now saying that you can break that 30 minutes up into shorter active periods throughout the day. As long as each activity lasts at least 8 minutes and is of moderate intensity when you total them up to 30 minutes per day, you'll reap the same rewards as if you had been gardening for a half hour straight. So you can do a little weeding in the cool of the morning and go back out to the garden in the evening to prune and trim.
Start slowly, if you're not used to the exertion. Lift properly, by using your legs. Vary your tasks and your movements and make use of the major muscle groups, to get the most benefit. Aches and pains aren't necessarily a sign of a good workout. Your muscles may feel tired, but they shouldn't hurt unless you're using muscles you haven't worked in a while or you're using them wrong.
Gardening isn't usually enough exercise to forsake your daily walk or swim, but it's nice to know those tired muscles you feel after turning the compost are actually something good you did for your body and your health. As with any other form of exercise, check with your doctor first, if you're not used to strenuous exercise. Make sure you incorporate a little stretching before and after gardening and take things slowly in extreme heat. We do a garden for the pleasure, after all. Getting in shape and losing weight are just the icing on the cake.
Final Thoughts
Gardening gets you moving in an enjoyable way is a great strategy for staying healthy, especially for those who are attached to their desks most of the week. Gardening also forces you to get outside and dig around in the dirt, which will do wonders for your body.  It's an excellent form of functional exercise, incorporating many of the elements of a moderate to intense fitness routine. Stretching, pushing, pulling and lifting incorporate multiple muscles at one time and improve the quality of your overall fitness level.
Gardening also helps improve balance, flexibility and sharpen your senses. The movements, the sights and smells are all part of the healthy benefits while you tend your green space. 
The fresh air, focusing on tending your garden and unplugging from technology all open the door for more creativity, too. Gardening helps you connect with the earth, your body, mind and spirit, which allows space for relaxation, stress-reduction and creative thoughts.  Immersing yourself in nature is a natural relaxer and helps boost those endorphins, which help you feel better, help you become more grounded, centered and relaxed.
By the way, if you don't have access to a garden, you can volunteer at a local park in the neighborhood; it's a good way to give back to the community, and benefit physically and mentally at the same time!
So what's stopping you?
By the way, if you or someone you know is new to gardening, you'll love this Beginner's Illustrated Guide to Gardening: Techniques to Help You Get Started by Katie Elzer-Peters.  It's a one-stop, easy to understand, beautifully designed book with step-by-step instructions and photographs for every important gardening and landscaping technique.
Thanks for visiting and reading …
I hope this article provided you some inspiration to get out in the dirt.  I welcome your comments below.
For an excellent selection of anything and everything you need to get gardening (and things you didn't know you needed!), check out  Amazon's Gardening Products!

-Laurie

You may also be interested in:
Practical Gardening Safety Tips for Seniors
Smart Shopping Tips For Your Spring Planting
Find The Best Bathroom Scale for You
How to Choose the Right Diet Plan
How to Keep Your Cuticles Looking Good (And Products You Need)
Science Proves Coffee Slows Down Aging
The Best Foot Bath Massagers – Full Reviews
Top 10 Massage Chairs – Full Reviews
Anytime Gifts That Seniors Will Actually Use
Midlife Medical Screening Tests That Women Over 50 Need
Best Air Purifiers for COPD – Full Reviews
Detailed Review of the SoClean CPAP Cleaner
Best Treadmills for Seniors Home Fitness
Should You Buy an Electric Bike?
The Best Elliptical Machines Reviewed