Gifts for Nursing Home Residents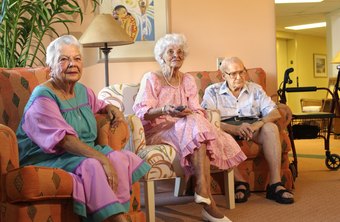 "What do I get for someone who lives in a nursing home?"
It's a good question — sometimes it's tricky to work around constraints like limited space and health issues.
While your recipient's health and abilities should always be kept in mind, here are some ideas to inspire your thinking.
Great Gift Ideas For A Senior in a Care Home
Guest book. Let visitors leave their warm wishes in writing. In cases where memory problems or dementia are involved, guest books can help family members keep track of who has come to visit.
Photo board. A padded, fabric covered board with ribbons in which to slip photos encourages guests to bring in new pictures, and they're easy to swap in and out. (You can find them at craft or photography stores, or make your own.)
A throw blanket can add a personal touch to the room and make it feel more homey. A throw blanket or small quilt can keep legs warm.
Silk or satin pillowcases are a nice luxury because they're easier on delicate skin and create less fuss for hair styling.
Spruce up their décor. Dress up the walls with "wallies" or cut your own shapes out of a roll of wallpaper border to stick up as decals — they'll be easy to remove later on. Help them choose a fresh set of curtains to brighten up the space.
Examples:
Suncatchers or decals for the window add some colorful decoration without getting in the way.
For example, this  Regal Hummingbird Suncatcher is gorgeous, and a cat lover would appreciate the "Cat Curiosity" Suncatcher
Magazine subscriptions make great gifts, and give your loved one something to look forward to.
Some ideas are National Geographic,  Reader's Digest, and People.
Audio books are wonderful, especially if your loved one's eyesight makes reading difficult.

Audio Book Ideas:
The literature buff would certainly enjoy BBC Radio's Jane Austen CD Collection, which includes all six of her classic novels.
In Mansfield Park, on a quest to find a position in society, Fanny Price goes to live with her rich aunt and uncle.
In Northanger Abbey, young, naïve Catherine Morland receives an invitation to stay at the isolated Gothic mansion Northanger Abbey.
In Sense and Sensibility, forced to leave their family home after their father's death, Elinor and Marianne Dashwood try to forge a new life at Barton Cottage.
In Pride and Prejudice, Mrs. Bennet is determined to get her five daughters married well, so when the wealthy Mr. Bingley and his friend Mr. Darcy move into the neighborhood, her hopes are raised.
In Emma, Emma Woodhouse declares she will never marry, but she is determined to find a match for her friend Harriet.
Finally, in Persuasion, Eight years ago, Anne Elliot rejected a marriage proposal from a handsome but poor naval officer—but now her former love has returned.  With an all-star cast including David Tennant, Benedict Cumberbatch, Julia McKenzie, Jenny Agutter, Toby Jones, Eve Best, and Juliet Stevenson, these BBC radio adaptations are full of humor, romance, love lost, and love regained. Duration: approx. 15 hours 30 minutes.
The New Adventures of Sherlock Homes Collection will be a sure hit with mystery fans who miss the old-time radio plays.
From 1939 to 1946, Americans gathered around the radio to listen to The New Adventures of Sherlock Holmes, featuring Basil Rathbone as the high-strung crime-solver, and Nigel Bruce as his phlegmatic assistant, Dr. Watson. Witty, fast-paced, and always surprising, these great radio plays are as fresh as when they first premiered and feature perfect sound. 
Other Ideas
"Outside food" — like a cup of coffee and cookie from their favorite chain or a favorite take-out meal to enjoy with them.
Specialty food items. A nice tin of non-perishable candies, confections and cookies also give residents something to offer guests when they come to visit. Also, some fresh fruit, jams and jellies to enjoy with their meals offer some welcome variety.
Some Food Ideas:
For the snack lover, this Care Package Party Mix will be a lot of fun to share!
These wonderful Fairytale Brownies are sugar-free and perfect for the sweet tooth who's watching their sugars.
This Meat and Cheese Collection from Wine Country will be a real treat for the fan of gourmet savories.
Top up their account. Many residents appreciate a little cash for in-house services like the general store and hairdresser, and it can cover optional activities and outings.
Fresh flowers can brighten up the room. Choose a bouquet of cut flowers instead potted plants, unless you know someone can take care of them on a regular basis.
A "coupon book" for running errands, shopping trips and other outings.
Some Clothing Ideas:
A nice pair of pajamas or a bed jacket. A  cardigan can also keep people cozy, and a pair of slippers will keep feet toasty. (Just be sure to avoid slippery fabrics.) 
This adaptive cardigan completely opens up, allowing the arms to be slid into the armholes without having to raise the individuals arms or struggle with a neck opening. The back overlap is then folded over and domed/snapped into place. I think this is a great product for home care, retirement and nursing home settings.
Some Music Ideas:
Music.  A CD of your loved one's favorite songs can be enjoyed any time. Music can also help people suffering from dementia remember happy times.
A visit. Ultimately, the best thing you can offer is your company. Bring in a movie or watch a TV special or sports event with them. Plate up some homemade goodies and sliced fresh fruit for a mini Christmas party. Give your favorite lady a manicure or pedicure.
At holiday time, pick up a Christmas Wreath or  other seasonal decoration for their door. If there's enough space, consider a mini Christmas tree with built-in lights.
Tips For Smarter Shopping
– Steer clear of strongly scented perfumes, lotions or flowers. Many people have allergies — including staff and other visitors.
– Breakable items can pose a safety hazard — especially if they can't be cleaned up right away.
– Pack modest sized portions of perishable foods. It's better to bring less goodies than to have them go to waste.
– Check with the family or with staff to find out if gifts of food are appropriate. Your recipient may have certain dietary needs, and Christmas goodies can cause stomach upsets and diarrhea.
– Leave animal prints in the store. People with dementia can find them frightening. Likewise, avoid the color black if you can because it can be hard to see.
– If you're giving blankets or clothing, make sure someone can sew in a label with the recipient's name on it. Items can get lost in the laundry or go wandering with other residents.
– Unfortunately, theft is possibility so avoid valuable and one-of-a-kind items you would hate to see go missing.
And a final word of advice: be aware that whatever you buy will have to be stored somewhere and someone will have to take care of it if you're not around. If you're able, offer to store items like holiday décor yourself.
When in doubt, ask ahead of time if your gift idea is appropriate. The nurses, personal support workers and volunteers who spend a lot of time with your loved one can offer great advice. If you aren't close by and don't visit often, check in with the family first.
Nursing Home Holiday Celebration Tips
Celebrating with loved ones who live in a nursing home or assisted living can be a lot of fun if the family and the care center join forces.
Most facilities make a big deal about holidays and birthdays, and your presence can enhance your elders' enjoyment.
Nursing homes often have for Thanksgiving, Christmas, New Years, Halloween, July 4th or any other special day.  The home will usually provide decorations, appropriate activities and jolly good cheer.
I recommended decorating your loved one's rooms with ornaments they remember from their past, along with some new decorations to keep things fresh and interesting.

Besides decorating their rooms and showing up for celebrations, what else can you do to make a holiday festive for your loved one?
Use music. It's great for setting the mood. It also relaxes tension or promotes a festive feel, depending on the music chosen and the direction you need to go with the elder. Keep a CD player or an iPOD (with speaker) around so you can play their favorites.
Sing. Singing can be fun for many people. Whether Christmas Carols, Happy Birthday or just old favorites, getting a few people together to sing can often help everyone have a good time, even if they can't physically join in.
Use photos. Photos are wonderful for stirring memories. If you print copies of old photos, you won't have to worry about loss or damage. If some can be enlarged without undue distortion, so much the better. Hang them on walls or put them in an album.
Cook your elders' favorite foods. Bring favorite foods for the occasion, even if the facility is loaded with treats. Each elder has favorite treats from home. Try to provide some for the elder and some for her to give as snacks to residents, staff and visitors. Many elders enjoy a chance to be a host or hostess.
Avoid over stimulation. Be careful to not over stimulate someone with dementia. Keep an eye on the elders' moods so you know when to stop the party or when you should help a particular elder back to his room if he needs a break. Too much commotion can get confusing and stressful for anyone in ill health, but particularly for someone confused by dementia. Celebrating should preferably end before stress is evident, but be alert in case you need to assist someone to a quieter area.
Connect with others. Hopefully, you already have made friends with staff, other residents and their families. That connectedness helps your loved one feel a part of a whole rather than left out of life. If your loved one is new to the center, this is a good time to get to know other families.
Be sure to participate. Join in the fun as much as your loved one can handle, but remember your own needs as well. If you have family members at home that need some of your time, then you have to balance both worlds. Give your loved ones in the care center your attention and contribute to their good time, then leave them in the good hands of staff and go back home to finish celebrating with the rest of your family.
Get some rest. All of this celebrating doesn't only wear down your elders. It can also be exhausting for the caregiver. You found help by choosing a good care center because your elders need more help than you, alone, can give. When party time is over, give yourself time to regenerate. You should be a better caregiver if you do.
Celebrations should be fun and encouraging for all involved. These tips can help reduce stress, anxiety, and fears–and, in the end, help you have a good time with those around you.
Please share your nursing home gift-giving and holiday celebration advice in the comment section below!

You may also be interested in:
Ideas For Keeping Your Dementia Patient Busy and Happy
Anytime Gifts that Seniors Will Actually Use
Coloring For Adults is a Healthy Hobby
Are Therapy Dolls and Fidget Blankets Good for Dementia Patients?
Practical Shoes for the Elderly
Shoes and Slippers for Swollen Feet
Convincing Your Parents to Transition to Assisted Living
Assisted Living Questions and Answers
Preparing For Your Elderly Parent to Move In With You
Help for Anxiety in the Elderly