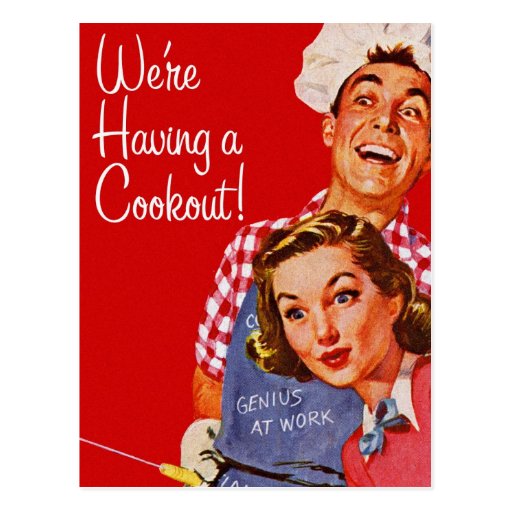 When the light stays longer, and the warm evening seem a little more relaxed, get the barbecue out and plan an easy healthy meal.
A meal cooked on the barbecue is a great way to enjoy the warmth of the season, enjoy quality time with your loved ones, and create new memories.
If you haven't used your barbecue yet this year, or it need a little TLC, read Getting Your Barbecue Ready For The Season.
Here are some Heart Healthy Barbecue tips to keep in mind:
For Meat, Poultry and Fish
Go for grilled fish more often.  The healthiest types include salmon, trout and herring, which are high in heart-healthy omega-3 fatty acids.
Buy chicken breasts – and remember to remove the skin before eating – instead of the fattier dark meat (legs and thighs).  Or try grilling up chicken or turkey burgers using breast meat, and add diced onions for another layer of flavor.
What cut of meat to buy?  Choose "loin" and "round" cuts of red meat and pork.  And buy "choice" or "select" grades of beef instead of "prime."  While these have the least amount of fat, don't forget to trim the fat when you get home.
Use a rack so the fat drips away from the food.
For Side Dishes, Drinks and Desserts
Go green… and red, orange, yellow, purple and more.  Serve green leafy salads or fruit salads (or a combination of both, like baby spinach with strawberries or mixed greens with orange slices) instead of mayonnaise-based salads.  Add some crunch – and healthier fats – with some toasted walnuts or almonds instead of croutons.
Instead of potato chips, which can be high in saturated and trans fats, serve raw veggies like cucumber, carrot and celery sticks, cherry tomatoes and broccoli and cauliflower florets with a low-fat dip.
Drink water or diet soda.  Regular sodas are loaded with sugars and calories.
Cut back on commercially baked foods, like cookies, pies and cakes.  Remember that most store-baked goods are made with egg yolks, butter or shortening and other ingredients that are high in saturated fat and/or trans fat.
 A smoothie with luscious fresh fruit in season, fat-free vanilla or lemon yogurt and a touch of honey makes a healthy, refreshing dessert alternative.
Try grilling fruits like pineapple slices, nectarines, peaches or plums – the natural sugars caramelize with the heat and give them great flavor.  Fruits are loaded with vitamins, minerals and fiber – and they're low in calories.
Oils, Dressings, Seasoning and More
Multi-task with one bottle… Use reduced-fat, low-fat, light or no-fat salad dressings (if you need to limit your calories) on salads, for dips or as marinades.
Watch the salt – cut back on salty seasonings and condiments like teriyaki, soy and barbecue sauce.
Choose low-fat, reduced-fat or fat-free cheese for your sandwiches and hamburgers.
Choose whole-grain, high-fiber breads and rolls, such as whole wheat, oats, oatmeal, whole rye, whole-grain corn and buckwheat.  In addition to being good for you, they add more flavor and texture to your meal.
Some Delicious, Quick and Healthy Barbecue Recipes To Get You Started
Spiedini of Chicken and Zucchini with Almond Salsa Verde
With a wonderfully complex and flavorful sauce like this, the chicken and zucchini need almost no seasoning―just salt, pepper, and the grill's flame. The salsa's combination of tangy, briny, herbal, and nutty flavors is perfect for chicken, pork, fish, or shrimp, especially if they're grilled. To save soaking the skewers for a half an hour, use metal ones instead of wood.
1 cup chopped fresh parsley
2 tablespoons chopped almonds, toasted
2 tablespoons chopped fresh chives
3 tablespoons capers, chopped
1/2 teaspoon grated lemon rind
3 tablespoons fresh lemon juice
1 tablespoon extra virgin olive oil
1/2 teaspoon chopped fresh thyme
1/2 teaspoon chopped fresh oregano
1/8 teaspoon freshly ground black pepper
1 1/2 pounds skinless, boneless chicken breasts, cut into 1-inch pieces
6 small zucchini, cut into 1-inch slices (about 1 1/4 pounds)
1/8 teaspoon freshly ground black pepper
Preparation
1. Soak 12 (10-inch) wooden skewers in water 30 minutes to prevent burning.
2. Prepare grill to medium-high heat.
3. To prepare salsa, combine first 12 ingredients; set aside.
4. To prepare spiedini, thread chicken and zucchini alternately onto each of 12 (10-inch) skewers. Coat spiedini with cooking spray; sprinkle evenly with 1/4 teaspoon salt and 1/8 teaspoon pepper. Place on grill rack; grill 6 minutes or until done, turning once. Serve with salsa.
Yield:
6 servings (serving size: 2 spiedini and 2 1/2 tablespoons salsa)
Grilled Sirloin Salad
Opposites attract in this dish: hot steak sits atop cold salad, and tender meat contrasts with crunchy vegetables. The basic salad with red wine-lemon vinaigrette is easy and works great, but you can customize the salad with your favorite vegetables (or fruits) and dressing. Just about anything will match the steak.
Ingredients
1 tablespoon chili powder
2 teaspoons dried oregano
1/2 teaspoon onion powder
1/2 teaspoon garlic powder
1/4 teaspoon black pepper
1 pound lean boneless sirloin steak, trimmed
8 cups spring-blend salad greens
1 1/2 cups red bell pepper strips
1 cup vertically sliced red onion
1 tablespoon chopped fresh parsley
1 tablespoon red wine vinegar
1 teaspoon fresh lemon juice
1 (8 3/4-ounce) can whole-kernel corn, drained and rinsed
Preparation
Combine first 7 ingredients; rub over both sides of steak. Heat a nonstick grill pan over medium-high heat. Add steak; cook 5 minutes on each side or until desired degree of doneness. Cut the steak across grain into thin slices.
While steak cooks, combine salad greens and remaining ingredients in a large bowl; toss well to coat. Top with steak.
Yield:
4 servings (serving size: 3 ounces steak and 3 cups salad)
Nutritional Information
Spinach Salad with Grilled Shrimp
An Asian-flavored vinaigrette with an orange juice kicker is the secret to this simple salad, while ginger and cumin give the shrimp skewers nice spice.
Ingredients
2 tablespoons rice vinegar
2 tablespoons fresh orange juice
1 1/2 tablespoons extra virgin olive oil
1 tablespoon low-sodium soy sauce
1/2 teaspoon grated peeled fresh ginger
1/8 teaspoon crushed red pepper
2 teaspoons extra virgin olive oil
1 teaspoon grated peeled fresh ginger
1/2 teaspoon ground cumin
1/4 teaspoon black pepper
2 pounds large shrimp, peeled and de-veined
8 cups baby spinach (about 8 ounces)
2 cups thinly sliced shiitake mushroom caps (about 4 ounces)
3/4 cup thinly vertically sliced red onion
Preparation
Prepare grill.
To prepare dressing, combine first 8 ingredients in a large bowl; stir well with a whisk. Set aside.
To prepare shrimp, combine 2 teaspoons olive oil and next 6 ingredients (through shrimp) in a large bowl; toss well. Thread about 5 shrimp onto each of 6 (8-inch) skewers. Place skewers on a grill rack coated with cooking spray; grill 3 minutes or until done.
To prepare salad, add spinach, mushrooms, and onion to vinegar mixture; toss gently to coat. Serve with shrimp skewers.
Yield:
6 servings (serving size: 1 1/3 cups salad and 1 shrimp skewer)
Char-Broil's Grill Yourself Skinny is for everyone who loves grilled foods and healthy eating. This is not a fad diet book but a collection of 130 nutritionally sound recipes that rely on science to pack a nutritious and delicious punch.
Author Heidi Skolnik, MS,CDN, FACSM, is a nationally recognized thought leader in nutrition who believes that all types of foods can fit into a healthy diet. In this book, she offers mouth-watering, healthy recipes for everything from Steak and Eggs on the Grill to Grilled Strawberries with Balsamic Port Glaze, Blue Cheese & Walnuts.
Plus, you'll find lots of savory seafood, poultry, meat, and vegetable dishes, including some from a host of celebrated chefs, such as Angelo Basilone, Executive Chef of the New York Giants and Brad Farmerie, Executive Chef at Public in New York City.
Each recipe comes with a breakdown of calories, protein, carbohydrate, and fiber, for those who are counting. You'll also find informative Nutrition 411 sidebars sprinkled throughout the book.  Read the reviews
Do you enjoy barbecuing and grilling?
Please share your comments below.
You may also be interested in: