Hospital Bed for Home Use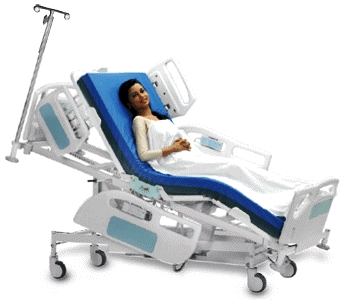 Should You Consider a Hospital Bed For Home Use?
If you or a loved one has difficulty getting in and out of bed, reaching a standing position, or is bed bound and requires treatments in bed, you may want to consider renting or purchasing a hospital bed for use in your home.
The main purposes of hospital beds at home is that they permit body positioning that is not feasible in a regular home bed and that they permit the attachment of other pieces of equipment that cannot be used on a regular home bed. 
They also make it easier and safer for the patient to get in and out of bed and stand up, and they make it easier for a caregiver to provide bedside care (such as position changes, bathing and assisting with eating). 
In addition, they can be customized with wheels for moving the bed and side rails for patient security. If the patient is at risk of rolling out of bed or has limited mobility, a bed side rail is particularly important.
Let's talk about five important reasons you may want to look into bringing one into your home:
1. Better positioning for patients
When people spend extended periods of time in bed, the pressure that the bed exerts on their bodies causes skin tissues to become trapped between bone and the bed's surface, causing pressure sores or bedsores.
For such patients, hospital beds provide an effective solution: they enable users to make adjustments to the positioning of the bed, allowing them to shift the pressure that the bed places from one part of their body to another. Also, patients at risk for bedsores should also take care while choosing mattresses, and select one that will reduce friction
2. Improved Circulation
Hospital beds allow users to alter and adjust the bed to better position their head and feet. These changes allow for movement as well as periodic change to the pressure points on the body, thereby improving the patient's blood circulation while in bed.
3. Safety
Hospital beds become a requirement for people who suffer from conditions that require a caregiver's monitoring or occasional restraint. Especially in the case of people who are at risk of falling out of bed – for instance, people living with dementia or other cognitive impairments – the bed rails on hospital beds assist in reducing the risk of fractures due to falls.
While full-length bed rails are a necessity for some patients, many people use rails as an assist while getting in and out of bed, or to re-position themselves in the bed. These patients do not require the restraint of a full-length rail. Most of our hospital beds are available with both full and half-rail options.
4. Transferring
Often, patients experience difficulty getting in and out of beds. Hospital beds make this problem easier because they have the ability to raise the patient higher or lower. Due to this feature, patients can sit up and get out of bed in the position with relative ease.
People experiencing hip and knee problems, for instance, typically look to be seated with those joints at an angle greater than 90 degrees; this helps them comfortably get into a standing position. Hospital beds allow users to do so with safety and ease.
5.  Caregiver Assistance
Caring for a loved one who is bedridden can take a toll on the physical well-being of a caregiver, and a common problem they face is back pain from frequent bending to administer care.
Hospital Beds enable caregivers to elevate their patients to a level at which they can care for them without straining their own bodies in the process.
Types of Hospital Beds
Electric Hospital Bed
The basic modern hospital bed is called an electric bed. They are the beds most often seen in city hospitals or major town hospitals. The options of raising and lowering the bed are chosen through buttons that are set on the side rails.
This is the bed you would most likely look into, unless the patient has the specific needs outlined in the bed types below.

Bariatric Bed

A Bariatric bed is the heavy-duty full-electric bed frame you would need for bariatric individuals weighing up to 600 pounds. 
Gatch Bed 
The gatch bed has long-standing history of use in hospitals. They are most often seen in nursing homes and older and/or remote areas that are economically-challenged that utilize these beds because of their lack of need for electricity. They have three cranks at the foot of the bed below the mattress. One crank raises and lowers the whole bed, one crank raises and lowers the head of the bed and the last crank raises and lowers the foot of the bed.
Stretchers
The types of beds you see in a hospital emergency room unit are typically stretchers. These beds are designed for mobility. In the event a person must dial 911 from a separate location, these beds can easily transfer from house to ambulance to the operating room to the ER unit, thanks to special features, such as folding legs.
Low Beds
Low beds are specifically designed for those patients who are liable to fall off beds and cause injury, despite the restraint of the side rails. Low beds are set from about 8 inches to less than two feet off the ground at the highest setting. Some designs of the bed have a high/low maneuvering setting, but most beds are just low to the ground with just the option to raise or lower the head and foot of the bed.
Low Air Loss Beds
A low air loss bed is a type of bed which has special cushions and a system designed to blow air into sacs within the mattress. These beds are designed for burn patients and patients with skin grafts by keeping them cool and dry, for patients prone to bed sores and patients with circulatory and/or skin problems by reducing pressure on the skin.
Circo-electric Beds 
A circo-electric bed enables the bed to rotate inside circular bars that look like a giant hamster treadmill. These beds used for patients in traction, severe skin conditions, patients who have severe burns or for patients who spinal injuries that cannot be moved but must be turned every two hours according to standard hospital policy.
Clinitron Beds
A Clinitron bed is similar to both the low air loss bed and the circo-electric bed in that it is .designed for patients with pressure ulcers, flaps, grafts, burns or skin disorders. It reduces pressure on the patient's skin because it is filled with material that resembles sand. Dry, warm air circulates through the material to maintain a level temperature and to support the body's weight evenly.
No matter which type of bed you choose, it is important to take some simple precautions in order to use the hospital bed safely. 
Here are some tips for maintaining the safety of the patient using a hospital bed at home:
Keep the wheels of the bed locked at all times. Unlock the wheels only if the bed needs to be moved. Once the bed is moved into place, lock the wheels again.
Put a bell and a telephone within reach of the bed. These should be available so you can call for help when needed.
Keep the side rails up at all times except when you get in and out of bed. You may need a footstool next to the bed. Use a night light if you need to get out of bed at night.
Put the hand control pad within easy reach to adjust positions. Learn to use the hand control and practice moving the bed into different positions. Test the bed's hand and panel controls to be sure the bed is working correctly. You may be able to lock the positions so the bed cannot be adjusted.
Follow the specific manufacturer's instructions for using the bed. Check for cracks and damage to the bed controls. Call the bed manufacturer or another professional if you smell burning or hear unusual sounds coming from the bed. Do not use the bed if there is a burning smell coming from it. Call if the bed controls are not working correctly to change positions of the bed.
When you adjust any part of the bed, it should move freely. The bed should extend to its full length and adjust to any position. Do not place the hand control or power cords through the bed rails.
If you think a hospital bed might be helpful in your home, consult with your physician to determine what specific functions you should be looking for. 
Please drop me a comment if you have any thoughts on or experience with having a hospital bed in the home.
You may also be interested in:
Adjustable Beds – Benefits and Reviews
Top Pillows to Relieve Neck Pain
For Caregivers: Coping With Incontinence
How to Give a Sponge Bath in Bed
How to Choose Adaptive Clothing
Shower Chair and Bath Bench Guide
All About Grab Bars and Hand Rails for Safety
Caregivers – How to Reduce the Risks from Heavy Lifting
Choosing the Right Transport Chair
Practical Shoes for the Elderly
Help for Painkiller-Induced Constipation (OIC)
The Most Effective Stop Smoking Aids
Adjustable Beds Guide and Reviews