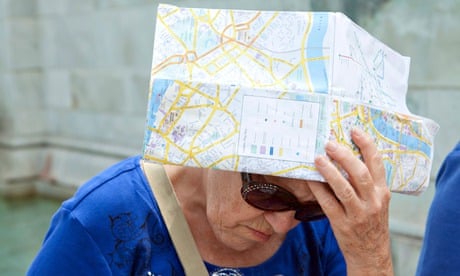 Summer weather can pose special health risks to older adults and people with chronic medical conditions.
Here's what you need to know about keeping your loved one staying safe and comfortable while enjoying the warm weather.
Elderly people (people aged 65 years and older) are more prone to heat stress than younger people for several reasons:
Elderly people do not adjust as well as young people to sudden changes in temperature.
They are more likely to have a chronic medical condition that changes normal body responses to heat.
They are more likely to take prescription medicines that impair the body's ability to regulate its temperature or that inhibit perspiration.
It is critically important that adults particularly susceptible to hyperthermia and other heat-related illnesses know how to safeguard against problems. Hyperthermia is caused by a failure of the heat-regulating mechanisms of the body.
Heat fatigue, heat syncope (sudden dizziness after prolonged exposure to the heat), heat cramps, heat exhaustion and heat stroke are forms of hyperthermia … older adults are at risk for these conditions, and this risk can increase with the combination of higher temperature, individual lifestyle and general health.
Lifestyle factors can include not drinking enough fluids, living in housing without air conditioning, lack of mobility and access to transportation, overdressing, visiting overcrowded places and not understanding how to respond to hot weather conditions.
Older people, particularly those with chronic medical conditions, should stay indoors in cooler spaces on hot and humid days, especially when an air pollution alert is in effect.
People without air conditioners should go to places that do have air conditioning, such as senior centers, shopping malls, movie theaters and libraries.
Cooling centers, which may be set up by local public health agencies, religious groups and social service organizations in many communities, are another option.
See Portable Air Conditioners – What to Consider
Factors that increase the risk of hyperthermia may include:
High blood pressure or other health conditions that require changes in diet. For example, people on salt-restricted diets may be at increased risk. However, salt pills should not be used without first consulting a doctor.
Heart, lung and kidney diseases, as well as any illness that causes general weakness or fever.
Use of multiple medications. It is important, however, to continue to take prescribed medication and discuss possible problems with a physician.
Reduced sweating, caused by medications such as diuretics, sedatives, tranquilizers and certain heart and blood pressure drugs.
Heat Stroke
Heat stroke is the most serious heat-related illness. It occurs when the body becomes unable to control its temperature: the body's temperature rises rapidly, the body loses its ability to sweat, and it is unable to cool down. Body temperatures rise to 106°F or higher within 10 to 15 minutes. Heat stroke can cause death or permanent disability if emergency treatment is not provided.
Signs and Symptoms of Heat Stroke
Warning signs vary but may include the following:
An extremely high body temperature (above 103°F)
Red, hot, and dry skin (no sweating)
Heat Exhaustion
Heat exhaustion is a milder form of heat-related illness that can develop after several days of exposure to high temperatures and inadequate or unbalanced replacement of fluids.
Signs and Symptoms of Heat Exhaustion
Warning signs vary but may include the following:
Skin: may be cool and moist
Pulse rate: fast and weak
Breathing: fast and shallow
What You Can Do to Protect Yourself
You can follow these prevention tips to protect yourself from heat-related stress:
Drink cool, nonalcoholic beverages. (If your doctor generally limits the amount of fluid you drink or has you on water pills, ask him how much you should drink when the weather is hot. Also, avoid extremely cold liquids because they can cause cramps.)
Take a cool shower, bath, or sponge bath.
Wear lightweight clothing.
If possible, remain indoors in the heat of the day.
Do not engage in strenuous activities.
Recommended: Lethmik Women's Wide Brim Summer Hat, available in 11 color combinations!
Warm Weather Suggestion
On a hot summer's day, a misting fan can be your loved one's best friend, and provide insurance against heat risks. It works on the same principle of a humidifier, and its a great, inexpensive option for when and where you don't have air conditioning.  Even in air-conditioned conditions, the misting fan helps to keep the moisture balance in the air, making it more comfortable and less irritating to the throat and eyes.
A misting fan blows a fine mist of water into the air and if the air isn't humid, the mist evaporates, taking heat from the air with it. This allows the misting fan to work like an air cooler. In a dry climate, a misting fan can work very well outdoors.
I recommend the Designer Aire Indoor/Outdoor Misting Fan
Its beautiful styling to accent any indoor or outdoor living space

It is safe to leave outdoors: ETL "Wet Listed" safety rating with GFCI

The weight painted bases provide stability for windy conditions

The telescoping neck piece is height-adjustable
What You Can Do to Help Protect Elderly Relatives and Neighbors
If you have elderly relatives or neighbors, you can help them protect themselves from heat-related stress:
Visit older adults at risk at least twice a day and watch them for signs of heat exhaustion or heat stroke.
Encourage them to increase their fluid intake by drinking cool, nonalcoholic beverages regardless of their activity level.
Warning: If their doctor generally limits the amount of fluid they drink or they are on water pills, they will need to ask their doctor how much they should drink while the weather is hot.
Take them to air-conditioned locations if they have transportation problems.
What You Can Do for Someone With Heat Stress
If you see any signs of severe heat stress, you may be dealing with a life-threatening emergency.
Have someone call for immediate medical assistance while you begin cooling the affected person.
Do the following:
Get the person to a shady area.
Cool the person rapidly, using whatever methods you can. For example, immerse the person in a tub of cool water; place the person in a cool shower; spray the person with cool water from a garden hose; sponge the person with cool water; or if the humidity is low, wrap the person in a cool, wet sheet and fan him or her vigorously.
Monitor body temperature and continue cooling efforts until the body temperature drops to 101°–102°F
If emergency medical personnel are delayed, call the hospital emergency room for further instructions.
Do not give the person alcohol to drink.
Get medical assistance as soon as possible.
You May Also Be Interested In:
Important Tips to Keep Your Senior Hydrated
Plan Summer Outings With Your Senior
Portable Air Conditioners – What to Consider
Stroke – What You Need to Know
Practical Shoes for the Elderly
Allergy Medications – Know All the Options
Get Your Barbecue Ready For The Season
Healthy Ideas for the Grill and Barbecue