Living With Angina From Coronary Artery Disease
Angina is a type of coronary artery disease. The coronary arteries bring oxygen-rich blood to the heart. Because the heart is a muscle, it needs oxygen to work well. In coronary artery disease, one or more of these arteries may be partially or even completely blocked.
Stable and unstable angina do not always lead to a heart attack, but both should be given medical attention.
In coronary artery disease, blockages—made up of fats, such as cholesterol, and other debris—form on the inside walls of the arteries.
In stable angina, the blockages may not seriously block the flow of blood and this condition usually doesn't damage the heart.
In unstable angina, the blockages may be large and can lead to a heart attack.
Having either stable or unstable angina does not always mean your loved one will have a heart attack, but angina can be serious and should be treated by a doctor.
Chest Pain Can Be An Emergency

Angina is caused by a lack of oxygen in the heart muscle. Symptoms include pain or discomfort in the chest, arms, back, neck, or jaw.
Sometimes, anginal pain may feel like a tight or crushing sensation, or it may be a stabbing pain or numbness. Some people mistake anginal pain as indigestion or gas pain.
Here are some signs that your loved one's angina is serious and that he or she should go to the hospital right away:
Pain or discomfort that is very bad, gets worse, and lasts longer than 20 minutes.
Pain or discomfort along with weakness, nausea, or fainting.
Pain or discomfort that is worse than your loved one has ever had before.
If you loved one has already been diagnosed with coronary artery disease and takes nitroglycerin to help manage his or her condition, any pain or discomfort should go away after he or she takes three tablets in 15 minutes. If it doesn't, your loved one needs to go to the hospital right away.
If you live in an area where ambulance service is not quickly available, someone should drive your loved one to the nearest hospital. He or she should not drive.
Treatment of Unstable Angina
If your loved one experiences severe chest pains, his or her doctor will want to run a series of tests. After the tests, you, your loved one, and the doctor can decide on the best course of treatment.
In general your loved one will have three choices: medical therapy, angioplasty, or bypass surgery.
Medical Therapy
Several types of medicine—including a daily low dose of aspirin, nitrates, and beta blockers (both by prescription) — can help relieve the discomfort of unstable angina.
Some of these drugs make it easier for the heart to work, but none of them removes blockages from the arteries. They simply relieve anginal discomfort by bringing more blood to the heart.
Medical therapy may be used alone or in combination with other treatments—but many people with unstable angina do very well on medicine alone.
Medical therapy may benefit your loved one if he or she:
Has a blockage or blockages in only one vessel
Has a less severe blockage
Does not have severe anginal discomfort
Questions To Ask About Medical Therapy
What side effects will the medicine cause?
Will my loved one have to take medicine for the rest of his or her life?
Some people have uncomfortable side effects from the medicine, but most feel better because they have less anginal discomfort. If your loved one does have a reaction to a medicine, be sure his or her doctor knows about it. Often the reaction goes away or becomes less severe with time. If not, the doctor may be able to change the medicine to make your loved one more comfortable.
If your loved one continues to experience anginal discomfort while taking his or her medicine, he or she may need to discuss the possibility of angioplasty or bypass surgery with his or her doctor.
Angioplasty
In angioplasty, a thin tube called a catheter is inserted into an artery in the groin and threaded up to the blocked artery. This catheter has a very small balloon attached to the end. When the catheter gets to the blockage, the doctor inflates the balloon. When the balloon is deflated, the blockage should open enough for blood to get through, stopping the anginal discomfort.
Possible Benefits Of Angioplasty
Relieves your loved one's anginal pain
Increases your loved one's ability to be active and exercise
Allows your loved one to return to former activities
Reduces the amount of medicine that your loved one has to take
Possible Risks Of Angioplasty
Re-blockage of the artery
Questions To Ask About Angioplasty
Will my loved one need additional angioplasty or bypass surgery in the future?
What are the chances that my loved one might die during the procedure?
What other complications or problems may result from the procedure?
Bypass Surgery
Surgery is usually recommended for people who have severe blockages in the left main coronary artery or disease in several vessels. Surgery is also an option when medicines do not control anginal symptoms.
Coronary artery bypass surgery can be a very effective way to increase the amount of blood getting to your loved one's heart, which should stop his or her anginal discomfort.
In this operation, a piece of a vein, usually from a leg or another artery in the chest, is removed and used to "bypass" the blocked section. One end of the blood vessel is placed into the aorta (the artery that supplies all the blood going out of the heart and into the body). The other end is sewn into the artery below the blocked section to bypass the blockage.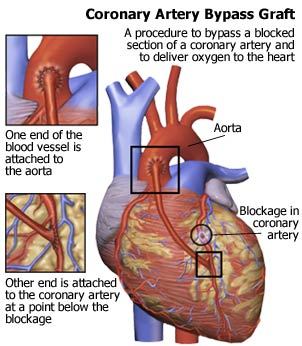 Questions To Ask About Bypass Surgery:
What will it feel like to have bypass surgery?
What is the chance that my loved one might die during surgery?
What other complications or problems may result from the procedure?
Will my loved one need more surgery in the future?
Can Blockages Come Back?
Neither angioplasty nor bypass surgery is a cure for coronary artery disease. Blockages continue to build up on artery walls after either procedure. Both angioplasty and bypass surgery can be repeated if the arteries become blocked again, but the only way to stop coronary artery disease is to prevent more blockages from building up.
Your loved one's doctor may recommend that he or she attend a cardiac rehabilitation program. These programs usually are offered by local hospitals and very often they are covered by insurance.
In a rehabilitation program, nurses, exercise specialists, and doctors will help your loved one change behaviors that put him or her at a higher risk for future artery blockages. They will also teach your loved one how to exercise safely and help him or her gain confidence in his or her ability to live with heart disease.
Preventing Blockages

The best way to prevent blockages is to:
Eat foods that are lower in fat
Increase physical activity
This is the ultimate resource for anyone looking to improve cardiac health and lose weight, offering 800 recipes–100 all new, 150 refreshed–that cut saturated fat and cholesterol.
The American Heart Association's cornerstone cookbook has sold more than three million copies and it's now fully updated and expanded to reflect the association's latest guidelines as well as current tastes, with a fresh focus on quick and easy.
This invaluable, one-stop-shopping resource — including updated heart-health information, strategies and tips for meal planning, shopping, and cooking healthfully — by the most recognized and respected name in heart health is certain to become a staple in American kitchens. Read reviews at Amazon.

Living With Coronary Artery Disease
Coronary artery disease does not go away. Your loved one's behavior and lifestyle will affect his or her condition. This is why it is important for you to encourage your loved one to follow his or her doctor's advice.
It's normal for you to worry about your loved one's health and future, but you should know that most people with unstable angina do not have heart attacks. Usually, angina becomes more stable within eight weeks. In fact, people who are treated for unstable angina can live productive lives for many years.
Coronary artery disease can be very difficult to deal with emotionally. Both you and your loved one may feel a loss of control, as if something had taken over your lives. Doctors, nurses, members of the clergy, and counselors all have experience in helping people with coronary artery disease. They can help you and your loved one deal with this difficult condition.

You may also be interested in:

Complete Guide to Medical Alert Bracelets
Best Blood Pressure Monitors Under $50
Complications of Type 2 Diabetes
Guide to Buying a Glucose Meter
Healthiest Supplement Drinks for Diabetics
Find the Best Bathroom Scale for You