As my mom's liver cirrhosis progressed, she became increasingly weak and unbalanced. 
If she felt well enough to leave her bed, her time was spent on the couch in the family room.  She began to use a walker to avoid falls, and of course my dad was always around to make sure she was moving safely.  When it came time to shower, mom was nervous about losing balance, but wanted to maintain her privacy, so she would bathe with the door unlocked and my dad sitting on the bed just outside the ensuite bathroom.
Eventually, they decided to make some modifications to the bathroom in order for mom to feel safer and maintain her independence with personal grooming.  The company he called helped my Dad decide to make some changes to the shower and add a seat and some grab bars.  While they were at it, my Dad had the bathroom counters and sinks changed to update the whole look. When it was finished, the bathroom was lovely and fresh (not like a hospital, just modern and safe).
Unfortunately, mom spent a lot of time in the hospital after the renovations, so she was not able to make as much use of the upgrades as my dad had anticipated and hoped.  Nevertheless, it was the right thing to do at the time, and it made a difference in my mom's quality of life when she was home.
In this post, I want to cover some considerations and options for modifying your bathroom to accommodate someone has chronic balance and/or mobility issues.  If you or a loved are feeling unsafe using the bathroom, it is important to assess and minimize your risks.  Sometimes, even something as simple as installing a grab bar can make the difference between a safe shower and falling hazard.
Aspects to Consider
Independence in the bathroom is one of the most challenging tasks for accessibility and safety in the home.  No matter the disability, the bathroom is almost always one of the most challenging rooms to maneuver in. It is difficult to feel at home, let alone safe, if you don't have secure access to your own bathroom. Achieving safety and independence with bathroom modifications is not only possible, but also customizable and can be attractive.
Modifying a bathroom is, by definition, a very personal project. It includes making alterations to a living space to meet the needs of physical limitations that people may be living with so that they can live a much more independent life.  A customized bathroom space will depend on an individual's needs, preferences, and space available.  Also, a modified bathroom doesn't have to look start or institutional; it can be as luxurious as you imagine it to be (and your budget allows).  You can install beautiful tile, stylish sinks and modern fixtures.  The look of your bathroom doesn't have to suffer in order to accommodate accessibility, independence, and safety.
When modifying the bathroom, keep your focus on altering spaces for safe movement and creating a safe flow.
 Grab Bars
Whether it's for a person with a disability or the elderly, grab bars are one of the simplest ways to provide support and balance. They can be useful almost anywhere in the bathroom:
for getting on and off the toilet
for in and out of the tub
for stability in the shower or at the sink
as handrails for navigation about the space
You can choose from:
standard wall mounted grab bars
Balance is a tremendous challenge for the seriously ill, disabled and the elderly.  It can be a simple adaptation that can save lives and provide a sense of security when navigating through the bathroom.
Barrier Free Showers
Barrier-free showers are showers without a curb that are designed for easier entrance and exit. The floor of a barrier-free shower is level with the rest of the bathroom floor in order to eliminate the step or climb into the shower that can be difficult to navigate for anyone with a mobility issue.
Selected for its barrier-free design, ease of installation, structural base and integrated wood backing, this roll-in shower is ideal for residential use. The design minimizes the chances of being installed in a non-barrier free manner, having grab bars installed without proper backing, and also reduces installation costs by installing directly on floor joists, sub-flooring and concrete surface.
Doored Bathtubs
Doored bathtubs allow users to enter the bathtub without having to climb in. When the doors are swung open, an entryway a few inches above the floor is created. Once properly seated in the tub, water temperature adjustments are made easy with oversized faucet controls. Doored bathtubs may include hand-held showerheads, stationary showerheads or Jacuzzi water jets.
Doored bathtubs often have a low threshold door to enable easy entry and exit. They can be ordered with or without the upper surround wall. A bather can sit comfortably in a slightly reclined position or shower while standing or sitting. They are carefully designed to accommodate the user without sacrificing installation space and look polished in homes and institutions.  They are also available with a removable lift access cover or full front and side panels that can be installed either against a wall or in a corner.
Bathing can be incredibly challenging for people in wheelchairs or with mobility issues. Doored bathtubs are often designed with contoured seats for a safer transfer from wheelchair to bath and vice versa. Doored bathtub users can take a seated bath or use the seat as leverage and balance.
Water Containment Solutions
Keeping water inside a shower/bath increases the safety factor of the whole bathroom.  You can find many options by contacting a company that specializes in bathroom modifications.
Collapsible Water Dam – Selected as a high quality option to control water spillage in barrier-free and roll-in showers, the collapsible dam is 1" high with strong self-adhesive bottom.
Features:
Provides for water retention yet collapses when rolled over by a walker or wheelchair

Helps reduce maintenance in barrier-free showers
Corner Setting Half Height Bi-fold Shower Door – Half height design allows a caregiver to assist the user in showering, while controlling water and keeping caregiver dry.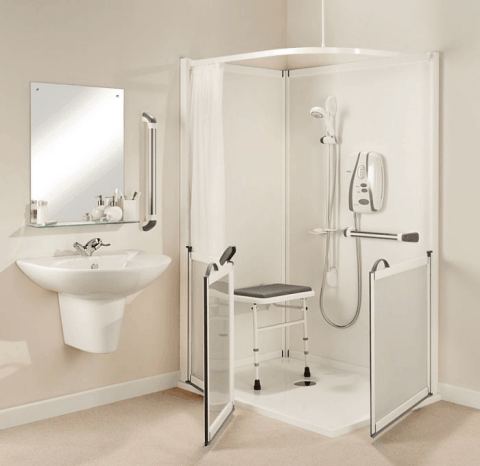 Once closed, the doors create a water barrier, ensuring that no water runs out of the shower, and controlling water splash. When opened, the doors allow full access to roll-in showers, walk-in showers and full barrier-free showers. These types of units are available in different sizes.

 Remember that if you or a loved one are unsteady, safety hazards in your bathroom deserve the highest consideration.  The bathroom is the site of many accidents and falls. 
Have you modified your bathroom for safety and accessibility or are you considering doing so?  Please share your thoughts in the comment section below.
You may also be interested in:
Your Guide to Shower Chairs and Bath Benches
Guide to Bathroom Grab Bars and Hand Rails
Help Your Older Adult Move From the Wheelchair to the Toilet
How to Reduce the Risks of Heavy Lifting for Caregivers
Choosing the Best Transport Chair
Find the Right Power Wheelchair
Guide to a Residential Elevator in Your Home