2016 Ring Video Doorbell Pro Review
The front door of your home is a place that usually isn't secured the way it should be. Package theft, burglary, and other malicious crimes are on the rise, but so is the smart technology that keeps us safe and secure.
Video doorbells have been around for a few years, but none have been as refined and feature-rich as the new Ring Pro.
As featured in Time Magazine, Fast Company, and even the popular television show Shark Tank, Ring has been making a name for themselves as the best video doorbell available. But the original Ring Video Doorbell left a bit on the table in terms of desired features, specifications, and details.
Today I'll be looking over their improvement, the Ring Pro, how it differs from the original, it's specific features, and what's better about it.
Size and Shape
From first glance, you'll likely immediately notice that the Ring Pro appears much smaller in size.
Measuring 4.5″ x 1.85″ x .8″, the Pro is slightly shorter and a bit skinnier than the original. Although the original is still quite small and discreet looking, it measures 4.98″ x 2.43″ x .87″.
I think that the design of the Pro is much more appealing than the original, simply because it's more rectangular and looks more similar to a standard doorbell, rather than a video camera.
1080p HD Resolution
Offering an improvement upon the original 720p resolution, the Ring Pro delivers an extra boost of clarity with full high definition in 1080p. It's designed to give you a better view of the details so that you can have a clearer and more vibrant image.
Too often, you'll hear about a criminal that was caught on camera, but the camera that recorded them was outdated and didn't provide enough clarity to make a good description of the perpetrator. By offering 1080p resolution, you should have no issues determining a clear description of anyone or anything that occurs.
Interchangeable Faceplates
One of the favorite aesthetic features regarding the Ring Pro is that it gives you the option to freely change the color of the faceplate whenever you'd like. Rather than coming with a solid color that can't be changed, you're given the freedom to change the to the faceplate that match the decor or color scheme of your home.

This means that you won't need to decide on a specific color and be stuck with that option forever. Best of all, four different faceplates of various colors are included.
Connection
One of the most notable and important differences between the original Ring and the new Ring Pro is how it connects to your home.
The Pro requires an existing hardwired doorbell so that it can be powered and functional without the use of a battery. Because of this, there obviously won't be an included rechargeable battery like the Original. This can be a good or bad thing depending on how you look at it. If your front door doesn't currently have a doorbell, you won't be able to integrate the Pro. But with the Pro, you won't need to hassle with batteries – ever.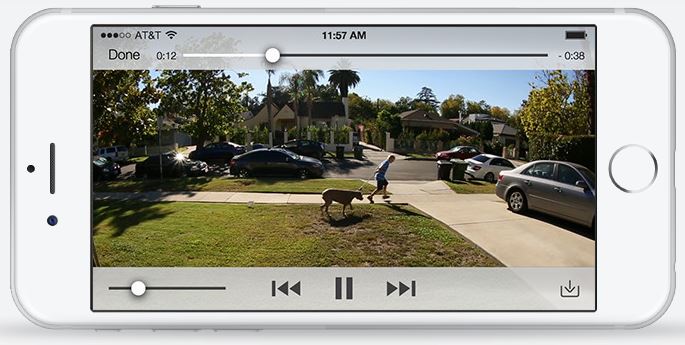 Wifi Connection
Since 1080p videos require a bit more bandwidth than your standard 720p video quality, Ring made a smart move by incorporating Dual Band WiFi into the new Pro version. With dual band WiFi, you aren't restricted to the 2.4 Ghz channel – you can also take advantage of the 5 Ghz channel, offering better transfer speeds and improved latency with less load time.
It connects to your home WiFi network and is then available to view and interact with on virtually any device using the Ring App – free from iTunes or Google Play.
Motion Detection
Rather than selecting a variety of different motion zones like you had to do with the original, the Ring Pro allows you to create your very own custom shaped zones.
While you're looking on screen at the view that the camera has, you can easily draw a variety of shapes to create your own specific zones, rather than pre-selected zones that don't give as much flexibility. However, each zone can't be adjusted for it's own sensitivity so that you're only alerted about what matters most.
Motion detection is a great feature to have, but if not implemented correctly, it can become a nuisance. For instance, the original Ring video doorbell gives you the freedom to adjust how sensitive the motion detection is. Everything from the wind blowing to a bird flying by could potentially set it off. Unfortunately, although you can create custom zones for the Ring Pro, it doesn't let you adjust the sensitivity of each zone like the original Ring does.
Night Vision
Having the ability to see in the middle of the night is a real luxury, especially considering that low-light and dark settings are quite common for front porches. With a variety of infrared LEDs built into the Ring Pro, you're given full-freedom to see clearly in the dark.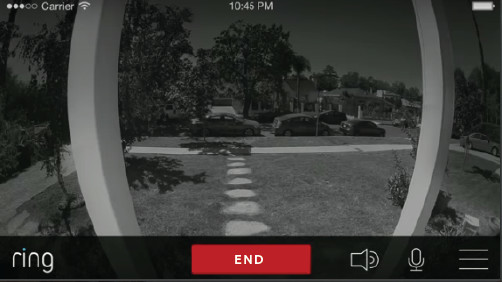 Although the original version had this same night vision capability, it's noteworthy to include as a quite useful feature for the Pro.
Field of View
To my surprise, the Ring Pro actually has a slightly smaller field of view than the original Ring Video Doorbell. Likely because of it's smaller size, the Pro boasts a 160 degree field of view, whereas the original has a 180 degree field of view. Although this is a slight downgrade, it still offers enough view for most applications.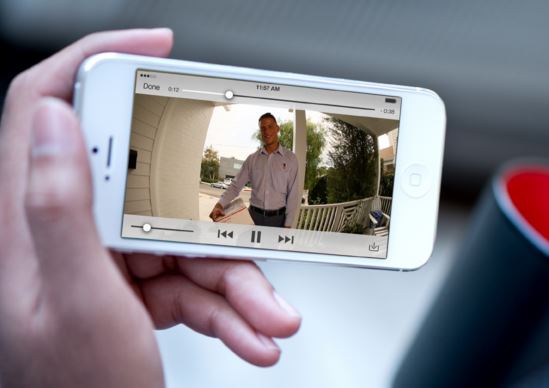 Cloud Video Recording
Recording to the cloud with the Ring Pro is not required, but it surely expands the amount of security and freedom that it brings to the table. With cloud recording, you're given the ability to view and download up to six months of activity at a time.
You can access your video clips and keep the important events and sift through the ones that you'd like to delete. Although it does cost $3 a month or $30 per year, this is a nice feature to have, especially if you'd like to share your clips with friends, neighbors, or even Law enforcement.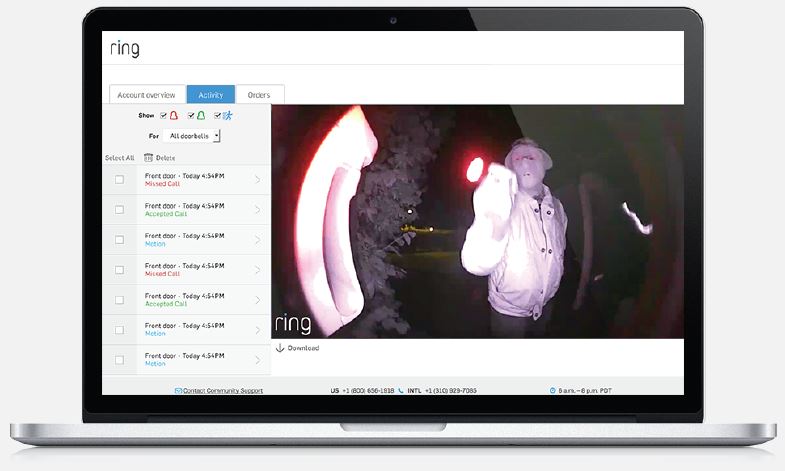 While the cloud recording is definitely a nice feature, I think it'd be nice if you could configure the Ring Pro to save footage onto your own hardware. For example, instead of having footage sent to a cloud server, if there was an option to save to an SD card, network attached storage, or your own FTP server, it would be a nice addition. The only way to save and access recordings is through the $3 a month or $30 per year subscription.
Two Way Audio
Through the App, you can speak through to whomever's at the door, and they'll be able to communicate back to you.
With a small integrated microphone and speaker, verbally speaking is easy and clear. They've even integrated some advanced noise-cancellation technology that filters out all of the unwanted background noises and gives you clear communication without distortion.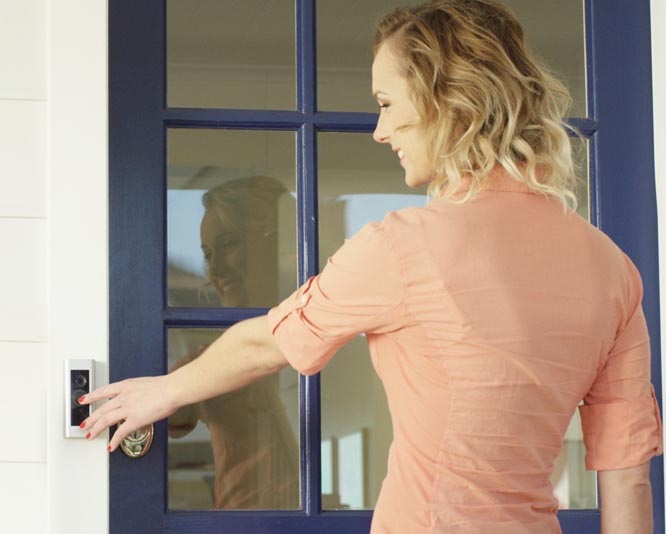 Final Thoughts
Offering several improvements over it's predecessor, the new Ring Pro Video Doorbell has become a game-changer in the home security market.
By delivering full 1080p high definition clarity, advanced, fully-customizable motion detection, and an assortment of other advanced features, it has  become one of the most desired home security products for 2016.
To top it off, everything you need is included – a screwdriver, 4 faceplates, optional wiring and connectors, a drill bit, pro power kit, screws, anchors, and an informative quick setup guide. Best of all, each Ring Pro is backed by a one year warranty on parts, and they even give you lifetime purchase protection to assure that your investment was well worth it.
Ring Pro Q and A
What are the key features of Ring Video Doorbell Pro?
Advanced motion detection
Lifetime purchase protection
Works with iOS, Android, and Windows 10
Interchangeable faceplates
Requires connection to a wired doorbell
How much does Ring Video Doorbell Pro cost?
$249
Where can I order Ring Video Doorbell Pro?
Visit Amazon to order Ring Video Doorbell Pro today!
What are the dimensions of Ring Video Doorbell Pro?
4.5 x 1.85 x 0.80 inches, 11.43 x 4.7 x 2.03 cm.
Does Ring Doorbell Pro operate on battery power?
No, Ring Doorbell Pro is designed to be powered by doorbell wires only. 
What is the operating temperature range for Ring Doorbell Pro?
Ring Doorbell Pro operates between -5°F and 120°F.  (-20.5°C and 48.5°C)
Will I be able to use two Ring Pros on one power circuit?
Note:  A transformer can power only one Ring Pro only. If you have more than one Ring Pro it must be installed on a different transformer / power circuit.
Which doorbells is Ring Doorbell Pro compatible with?
Ring Doorbell Pro is compatible with most mechanical or digital (electronic) doorbell kits that use transformers between 16 and 24 volts AC.  DC transformers or transformers below 16 volts AC are not supported.
What's the difference between Ring Video Doorbell and Ring Video Doorbell Pro?
Ring Video Doorbell and Ring Video Doorbell Pro both offer the same great experience.  You can see and talk to people at your front door whether you are at home or anywhere in the world.  Advanced motion detection sends you alerts when people are moving around in front of your door, helping prevent crime in our neighborhoods.  
Here are key differences that will help you decide which Ring Video Doorbell is right for you:
 

Ring Video Doorbell
Ring Video Doorbell Pro

Power options

Rechargeable battery power or hardwire to existing doorbell kit

Hardwire to existing doorbell kit only

Battery Life

6-12 months

n/a

Compatible Doorbell Transformers

8-24 VAC, DC not compatible

16-24 VAC, DC not compatible

Field of View

180 degrees horizontal

140 degrees vertical

160 degrees horizontal

100 degrees vertical

Video Resolution

HD 720P

HD 1080P

Finishes

Available in 4 finishes

Comes with 4 interchangeable different color faceplates.

Compatible Networks

2.4 gHz 802.11 b/g/n

2.4 or 5 gHz 802.11 b/g/n

Advanced Motion Detection

5 selectable zones and customizable sensitivity scale

Customizable motion detection zones

Live View Available

Hardwired only, yes

Yes

Size

4.98 x 2.43 x 0.87 inches

12.65 x 6.17 x 2.21 cm

4.5 x 1.85 x 0.80 inches

11.43 x 4.7 x 2.03 cm

Mounting screws

4

2

Security screws

2

1

Best for

Everyone

Users with a wired doorbell kit, professional installers
Ring Video Doorbell Pro includes four faceplates with the colors Satin Black, Satin Nickel, Dark Bronze, and Satin White.  The faceplate can be changed at any time.
How does Ring Video Doorbell Pro mount to the wall?
Two screws mount Ring Video Doorbell Pro directly to the wall.  The mounting screws can be screwed straight into wood or vinyl.  For brick, concrete, or stucco, use the unit to mark the location of both holes, drill using the provided drill bit, insert the anchors, then secure the unit with screws to the anchors.  After installation, place the selected faceplate on top of the unit and secure with a security screw.
What comes in the box?
Everything needed to install Ring Video Doorbell Pro in minutes:
Four interchangeable faceplates
Mounting screws and anchors
Install instruction guide 
What is a Pro Power Kit?
It's a small item that gets wired to your doorbell to provide the necessary power for Ring Video Doorbell Pro to function.  The Pro Power Kit must be installed for proper operation of Ring Video Doorbell Pro.
Does Ring Video Doorbell Pro use a diode for electronic (Digital) doorbell kits?
No.  A diode should not be used with Ring Video Doorbell Pro.  The Pro Power Kit, Wire Clips, and Wire Harness are required.  See instructions for installation and use.
What WiFi networks is Ring Video Doorbell Pro compatible with?
Ring Video Doorbell Pro is compatible with 802.11 b/g/n WiFi networks operating on 2.4 gHz or 5 gHz frequencies.  
Will Ring Video Doorbell Pro on a 5 gHz network work with my Ring Chime on a 2.4 gHz network?
Yes.  Ring Chime will only work on a 2.4 gHz network, however Ring Chime does not need to be on the same network as Ring Doorbell or Ring Doorbell Pro.  Ring Chime can work on a completely different network at a different location.  
What is the recommended upload Internet speed for Ring Video Doorbell Pro?
2 Mbps upload speed recommended for best streaming performance.
Users draw boxes around the area they wish to monitor, then saving the setting. Additional custom zones can be created, then each enabled or disabled for total control of motion detection.
What is the warranty?
1 year parts and labor.  Lifetime purchase protection.  
What is the refund policy?
30 days no questions asked.  
What if someone steals my Ring Video Doorbell Pro?
We will provide one replacement unit for free!  Simply send us a copy of the police report and we'll ship you one replacement Ring Video Doorbell Pro.
Can I upgrade my Ring Video Doorbell to a Ring Video Doorbell Pro?
No.  Ring Video Doorbell Pro is a separate purchase.  
Do I have to have a Ring Video Doorbell to use Ring Video Doorbell Pro?
No.  
Is Ring Video Doorbell Pro compatible with Ring Chime?
Yes.
You may also be interested in:
Here's an Easy Home First Aid Kit
Caregivers Must Prepare for Emergencies – Here's How
Install Grab Bars and Hand Rails for Safety
The Right Lighting Prevents Falls