Tips for Easier Senior Car Travel
Car Travel is Challenging for Seniors and Their Caregivers
Traveling by car can be challenging for seniors. Whether they drive themselves or you're playing chauffeur, simply using a car can be difficult. This can be caused by health conditions or the physical changes of normal aging.
For someone with Alzheimer's, dementia, Parkinson's, stroke, or mobility issues, the difficulty level can be exponential. It may even take multiple people to help them safely into and out of a car.
This is important because most seniors travel by car, especially when visiting the doctor. This usually means frequent car struggles for both seniors and caregivers.
All seniors benefit if they have an easier time traveling by car. Seniors who can drive will feel more independent and confident. Those with mobility issues won't have to go through such an exhausting ordeal.
Getting around more easily also helps seniors be more connected with family and friends, preventing the negative effects of isolation.
Gadgets That Really Help With Seniors' Car Travel
Here are some aids that solve the problems that can make car travel so frustrating!
Grab and Pull Seat Belt Reacher
For those with arthritis or limited shoulder / torso mobility, it's hard to reach up and pull the seat belt down. This reacher attaches to the seat belt and makes an extra long handle.
Seat Belt Extender
With limited mobility, it can be difficult to get the seat belt buckled. This seat belt extender makes it easier to reach and buckle up properly for a safe car ride.
Make sure to get the right size extender to fit your car's buckle.
Seat Belt Opening Aid
For people with arthritis or limited hand and thumb strength, unbuckling the seat belt can be frustrating. This aid makes it easier to undo a standard seat belt.
This Bucklebee Easy Buckle Release Aid is designed to reduce the unbuckling force required for a release by the rider.  It has a large grip for easy, ergonomic release, and remains attached to the seat for convenient. 
Seat Buckle Guard
Sometimes people with Alzheimer's or dementia unbuckle their seatbelts while you're driving. Dangerous!
This seat buckle guard is a good solution. Just stick your key in to pop the buckle open.
This BuckleBoss Seat Belt Guard doesn't allow your senior to unbuckle themselves in case of an accident or emergency, but it may be worth the risk if they frequently unbuckle themselves while you're driving – a more immediate danger.
Swivel Seat Cushion
This cushion has a base that swivels. Seniors can just sit down, then easily swivel their legs into the car.
No more struggling to lift legs and turn at the same time. The SOJOY Swivel Seat Cushion also makes it much easier for someone who's helping them into the car. 
If the car has bucket seats, place a towel on the car's seat to fill the gap and allow the swivel cushion to sit flat.
Auto Standing Aid
This removable handle fits securely into almost all driver or passenger side car doors. It's a non-slip grip hand hold that lets seniors boost themselves up and out of the car. The Stander Handybar has a 350 lb capacity.

Auto Aids for Those With Limited Mobility
When older adults have limited mobility, it's a struggle for them and you to leave the house. Getting into and out of the car can be almost impossible.
Without any auto mobility aids, helping these seniors into a car can take multiple people, making every trip to the doctor a major event. If you can't get enough help from others, you could end up hurting yourself or might be forced to use non-emergency ambulance transportation (expensive!).
Transfer Board
To help your senior get from their wheelchair to a car, this Mabis Wooden Transfer Slide Board bridges the gap and makes it possible for them to scoot from one seat to the other without needing to stand. Reviewers say it has a weight capacity of up to 350 lbs.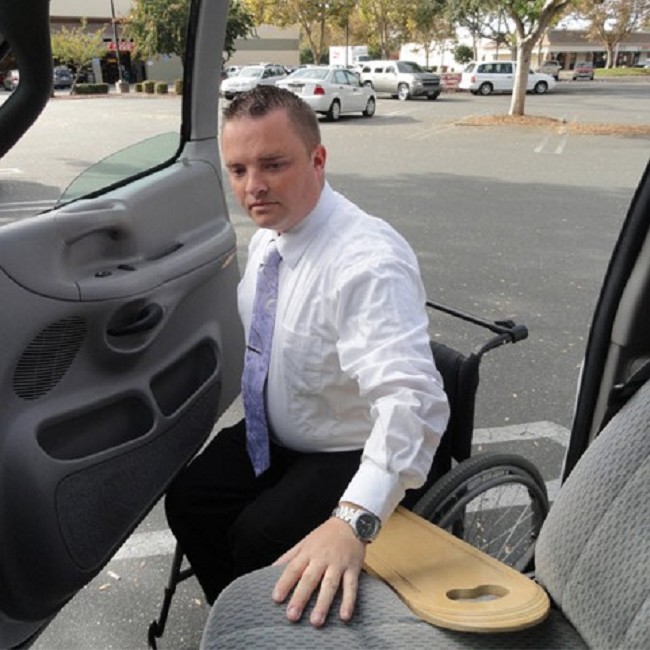 Pivot Disc
Some older adults can stand up from a wheelchair, but can't turn around to sit in the car. This disc saves you from injuring your back or shoulders while helping them turn around.
With this pivot disc, your senior stands on the disc and you can slowly turn them so their back faces the car seat and they can sit down.
If you need to move someone from a wheelchair to the car, this Preston BeasyGlyder board can make that task easier and safer on both you and your senior. There's a disc that slides along the board so you can push them from one seat to the other. They don't need to scoot their butt and you don't need to provide as much lifting or carrying support.
It's expensive, but may let you delay more expensive options like non-emergency ambulance transport, buying an automatic access lift seat, or getting an accessible van.
Final Thoughts
Auto aids are a worthwhile investment if it makes it possible to take your senior out of the house. Plus, even the most expensive of these options cost much less than a one-time ambulance transport.
Thanks for visiting and reading …
I hope this article provided you some helpful ideas.  I welcome your comments below.
-Laurie

You may also be interested in:
How to Find the Best Luggage for Seniors
Important Tips For Traveling With the Elderly
Simple Gadgets and Tips For Seniors' Kitchen Safety
Anytime Gifts That Seniors Will Actually Use
Minimize Your Seniors Risk of Falling Now!
The Right Lighting Prevents Falls
Shoes and Slippers for Swollen Feet
Practical Shoes for the Elderly
Gardening Safety Tips for Seniors
All About Grab Bars and Hand Rails for Safety
Install a Power Lift Toilet Seat for a Safer Bathroom
Shower Chair and Bath Bench Buying Guide
How to Buy an Elevated Toilet Seat
Choosing the Right Personal Medical Alert System
Patient Lifts and Slings for Safety and Comfort
Caregivers Can Reduce the Risks from Heavy Lifting
Choosing the Right Medical Walker
How to Choose the Right Walking Cane
Preparing For Your Hip Replacement Surgery
Studies Prove Blackcurrant Seed Oil Helps Arthritis
10 Simply Fabulous Arthritis Aids
Important Seniors' Nutritional Supplements Reviewed
The Best Foot Bath Massagers – Full Reviews
Top 10 Massage Chairs – Full Reviews
Are Genetic Testing Services Worth It?
Is the MyPurMist Inhaler Worth Buying?
Red Palm Oil Lowers Cholesterol
How to Find the Right Pair of Reading Glasses
Does Biosil Actually Do Anything?
Detailed Review of the SoClean CPAP Cleaner