Urinary Catheters:
What Kind Do You Need?
How to Select the Correct Catheter
Urinary catheters are a complex and diverse group of medical products. While they all serve a similar ultimate purpose, the specific needs and demands of each individual patient can lead to some confusion as to which product is right for them.
Patients who are considering catheterization as a solution for urinary incontinence should exercise diligence in choosing the right urinary catheter for their lifestyle and health requirements. (Image above: Straight Catheter – Comfort Medical)

Intermittent Catheters
By far the most common type of catheter is the Intermittent (or Short Term) Catheter.
An intermittent catheter is inserted into the urethra on demand to empty the bladder, and then removed again as soon as the bladder is empty. Users are taught how to catheterize themselves, and it is a straightforward technique that can be performed by most people.
Even children as young as seven or eight years old can be taught how to catheterize, and by using aids, people with reduced hand function can practice it as well.
Catheterization is undertaken roughly at the same intervals as you would normally go to the toilet, about 4-6 times a day.
Medicare will cover up to 200 of these single-use, disposable catheters each month, allowing for frequent catheterization.
These are available in both straight tip and coude tip varieties. The straight tip is the most frequently used of these two, as Medicare requires patients demonstrate a medical necessity that specifies the use of a coude tipped Intermittent Catheter.
This need will arise from specific patient anatomy which makes straight tip catheter insertion difficult or impossible. This is especially true in men who have an enlarged prostate, where the curved coude tip catheter is the only choice for insertion into the bladder.
Hydrophilic Catheters
As insertion can be one of the main barriers to appropriate catheter use, it is usually recommended that patients use a hydrophilic catheter.
Hydrophilic catheters are lubricated with sterile water rather than gel, more closely mimicking our body's own natural fluids. This produces greater ease of catheter insertion, helping encourage patients to catheterize whenever the need arises, leading to greater compliance with catheter treatment.
Indwelling (Foley) Catheters
Beyond simple intermittent catheters, there are also Indwelling, or Foley, Catheters. This type of catheter is replaced monthly, usually with the aid of a licensed medical professional.
As with Intermittent Catheters, these are available in both straight tip and coude tip varieties. Again, patients who can demonstrate a specific medical need will often opt for the curved coude tip version of a Foley Catheter as they tend to be easier to insert for many people.
The obvious advantage of Foley Catheters is that the frequent process of catheterization must be repeated much less often. For patients with a more active lifestyle that can make frequent catheter insertion difficult, Indwelling Catheters can be a good option.
This type of catheter is also frequently utilized for a preset period of time, such as after a surgery which can lead to urinary incontinence, since the catheter can be inserted by a doctor or nurse while the patient is already in their care. Foley Catheters are also available in a silicone version which enables patients with a documented latex allergy to avoid any unpleasant reactions to catheterization.
External (Condom) Catheters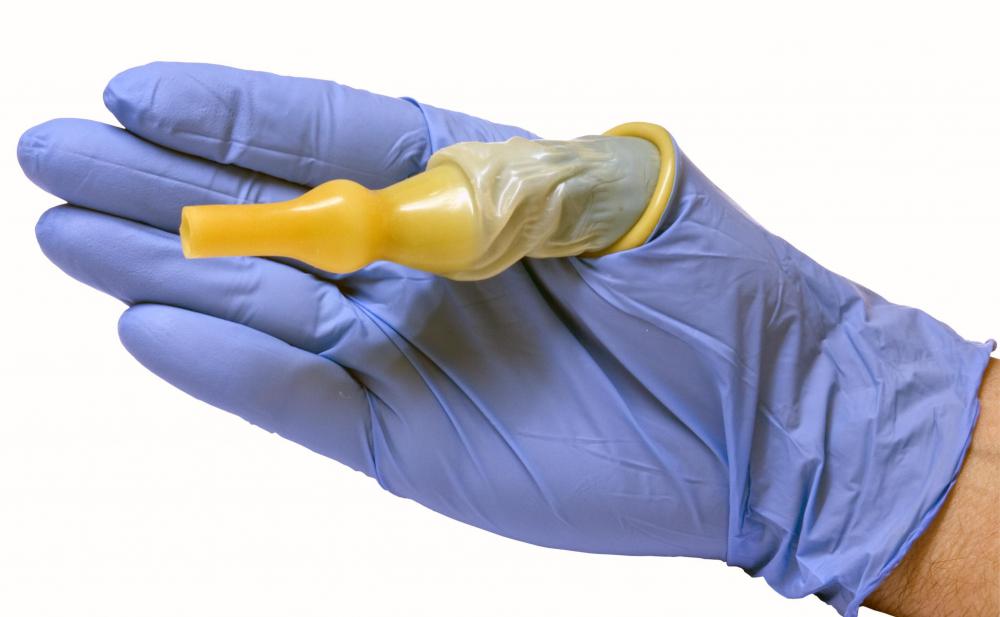 For men, Condom Catheters are yet another option for urinary incontinence.
Rather than being inserted directly into the urethra as with Foley and Intermittent Catheters, a Condom Catheter is used externally on the penis.
Medicare provides for up to 30 of these catheters a month. As they can help avoid the sometimes difficult process of catheterization almost entirely, this can be a popular choice for men who have had difficulty with traditional Intermittent Catheters.
Closed System Catheter

While this system is more complex and thus expensive, it will significantly reduce the likelihood of urinary tract infections, by far the most common consequence of catheter use.
A closed system catheter is, at a quick glance, a self-contained, sterile, pre-lubricated catheter housed within a collection bag.
The collection bag eliminates the need to void the urine into a receptacle or toilet, and since it's already self-containing, it also eliminates the need to hook up any other kind of bag or container. It's basically ready to use once it has been opened.
These systems often include other features to help assist with the catheterization process and keep everything more sterile. As with all other types of catheters, its main function is to drain the bladder of all urine in a comfortable, smooth process while minimizing risk of bacterial infection of the urinary tract and/or bladder.
Conditions for Medicare Coverage of a Closed or Sterile Catheter:
Medicare will cover a Closed or Sterile Catheter System only for patients with very specific sets of medical criteria.
If patients already on traditional Intermittent Catheters have had at least 2 urinary infections in the past 12 months, Medicare will cover a closed system.

Patients in nursing homes, immunosuppressed patients, patients with vesico-uteral reflux, and spinal cord injured pregnant female patients can also qualify for this system.
10 Steps to Safe, Simple Self-Catheterization
1.  Wash your hands thoroughly.
2.  Set out all necessary supplies – these can include a mirror, the catheter, water, soap and/or a sterile wipe.
3.  Position yourself in front of the toilet or in front of a collection container.
4.  Wash or sterilize around the urethra. For women, wash from front to back, never re-using a wipe. For men, wash in a circular motion, starting at the urethra and working your way out.
5.  Open the catheter. To keep the catheter as clean as possible, do not allow the catheter to touch anything once you pull it out of the wrapping.
6.  Apply lubricant to the catheter if applicable.
7. For women, gently open the labia with your fingers. For men, hold penis straight out from the body and angled slightly upward toward your body and gently squeeze the head of the penis to very gently to open the urethra.
8.  Insert the clean or sterile catheter until urine begins to flow. Gently push the catheter about 1 inch further into the bladder after urine begins to flow.
9.  When the urine stops flowing, shift position a few times to ensure all urine is emptied, then slowly remove the catheter
10.  Wipe the insertion site of any urine, throw away the catheter and wash your hands.
Final Thoughts
Although intermittent self-catheterization may be more intimidating than a Foley (indwelling) catheter, there are some definite advantages of intermittent catheterization (if it is an option for you).
Intermittent catheterization (IC) is the preferable method to empty the bladder when you can't urinate naturally. It is safe in the short-, mid- and long-term, minimizing common risks such as urinary tract infections (UTI's), strictures, bladder stone complications and upper urinary tract deterioration.
Intermittent catheterization is closest to natural urination, and gives the user control and freedom. For short-term users, intermittent catheterization gives a faster recovery and return to normal voiding (emptying of the bladder) after surgery.
Of the different types of intermittent catheters, evidence shows that hydrophilic single use catheters are best at reducing the risk of complications.
Of course, the biggest advantage of self-catheterization is having the freedom to choose when and where to empty your bladder, giving you more control over your life. Using a single-use intermittent catheter also reduces the risk of Urinary Tract Infections (UTIs) compared to an indwelling catheter.
Navigating the complex decision of which catheter is right for your personal needs should be a collaborative decision between the patient, doctor, and their medical equipment provider.
Ideally, you're looking for the middle ground between medical necessity and lifestyle preference.  This can be a complicated affair, so be sure to communicate fully and honestly with your doctor during the decision-making process.
Purchasing Your Catheter Supplies
Always purchase your catheter supplies from a company that is a nationally approved medicare provider participant which has been awarded accreditation by Accreditation Commission for Health Care (ACHC), a national accreditation organization authorized by the federal government's Centers for Medicare and Medicaid Services.   This will ensure that you are using quality products made to exacting standards, and that your privacy will be protected by law.

Recommended Catheter Supplier
I recommend Comfort Medical, which is accredited by the ACHC, has a superior reputation for quality and customer service, and is specifically licensed to offer urological supplies to their patients (and are required to keep your information confidential and protected under strict HIPAA guidelines).  Comfort Medical also fills out all necessary insurance forms and bills Medicare or private insurance on your behalf.

Comfort Medical has partnered brand name manufacturers who offer the highest quality products, and ships your catheter and ostomy supplies discreetly to your home.  Shipping from Comfort Medical is free of charge.
Comfort Medical also supports its customers by creating an individualized program; one of their product specialists will contact your physician to verify that you are receiving the correct amount and types of catheter and ostomy supplies, ensuring that you never run out.  The products specialists are always available to you to answer any questions you may have about the supplies.

Why Do I Recommend Comfort Medical?
Accredited by the ACHC

Solid reputation for brand-name product quality and customer service

licensed under HIPPAA guidelines, protecting your confidentiality

They fill out all the paperwork and bills Medicare or Private Insurance on your behalf

Delivery to your home is discreet

Shipping is free

Comfort Medical stays in contact with your doctor to ensure correct type and volume of supply

Comfort Medical product specialists are available if you have any questions
Thanks for visiting and reading …
I hope this article provided you some practical information about urinary catheters. 
I welcome your comments below.
-Laurie

You may also be interested in:
Top Adult Diaper Products Reviewed
Incontinence Protection Products for Home, Car and Bed
Managing Dementia Related Incontinence
Coping With Incontinence – A Guide for Caregivers
Incontinence Management in Assisted Living Facilities
Gifts for Nursing Home Residents
Install a Power Lift Toilet Seat for a Safer Bathroom
How to Buy an Elevated Toilet Seat
How to Find and Shop for Practical Shoes for the Elderly
Important Things Your Loved One Needs in a Nursing Home
Shoes and Slippers For Swollen Feet